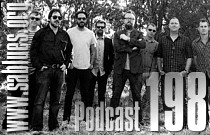 Coming soon!
Dec's edition of 'The Roots and Blues Hour'. The final podcast for 2013 features Halfway* - Matt Walker & The Lost Ragas – Garland Jeffreys - Shelby Lynne - Mandolin Orange - Busby Marou - 10,000 Maniacs - Chris Shiflett & the Dead Peasants - Don Morrison - Jen Cloher - Tim Easton - Alice Bright Sky - Stone Diamond - Jamie Williams & The Roots Collective - Avi Katz - The Wood Brothers - Lachlan Bryan & The Wildes - Chaser Eight - The Civil Wars.
*pictured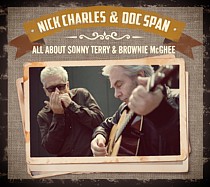 Nick Charles and Doc Span (US ex-pat harmonica wiz)
All about Sonny Terry & Brownie McGhee
Trinity Sessions Fri Dec 13th.
Old Clarendon Inn Sat Dec 14th 8:30pm
Semaphore Wkers Club Sun 15th Dec 5pm
Congratulations to the winners of
The 2013 Derringers Music
Roots and Blues Awards:
Don Morrison for Best Roots CD 2012-13
Lazy Eye for Best Blues CD 20112-13
Jump Daddy's for Best Blues CD of 2012-13.

It was a tie for the best blues album of 2012-13!
Service Awards in acknowledgement of enterprise and contribution to live roots and blues music in Adelaide were presented to Don Morrison and Mojo Inc ( Rob Eyers, Andrew Dundon and Chris Leese) .
Podcast 196 presents selected tracks from some of the albums submitted for the awards.
Play
56kb/s 22050Hz audio stream
or
Download
VBR MP3 to your mobile media player.
or
Download
High quality CBR MP3 to your player.
Dec's BLUES TIME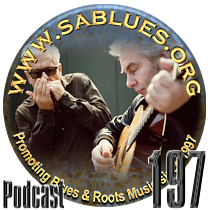 Press Play
Featuring: Nick Charles and Doc Span - Brother Dege - Steve Howell - Deb Ryder - Too Slim - Phil Gates - Jim Allchin - Becky Barksdale - Dan Bubien - Dan Mckinnon - Sharon Jones - Brass Transit - Janet Ryan - Avi Katz - Nikki Hill - Chris James and Patrick Rynn.
Download MP3 from
'Subscribers'
page.
Click

for RSS. Click

for iTunes.

Nov's Podcast Special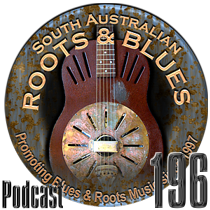 Press Play
Featuring: Cal Williams Jr - Brendon Manser - Jimmy Marin - Andy and Marta - JJ Fields - Mick Kidd - Jump Daddy's - Lazy Eye - Max Savage - The Hushes - Don Morrison - Don Morrison - Zkye - Brillig - Jay Hoad - Lily and The Drum.
Download MP3 from
'Subscribers'
page.
Click

for RSS. Click

for iTunes.



www.sablues.org
South Australian Roots & Blues
Subscribe to sablues.org
It's FREE! Be informed via our E-Newsletter about  latest Podcasts, upcoming Gigs and special ticket offers. Subscribe and gain access to the 'Subscribers' page where you can download the latest Podcasts and other goodies! Tell others about sablues.org
itunes, ipod and ipad users


Subscribe to podcasts at iTunes

Join the facebook group
I listen to podcasts from sablues.org

Download
Stitcher App
for your
Android or iPhone and
listen to
Podcasts fom www.sablues.org
If you wish to notify sablues.org of a
'
Change of Email Address
' click
here
If you wish to '
Unsubscribe
' from our
E-Newsletter click
here

View the
'sablues channel'
on
YOUTUBE
.