The Adelaide Roots & Blues Association
www.adelaiderootsandblues.org
Weekly blues gig blog:
adrootsandblues.blogspot.com
ARBA on
Facebook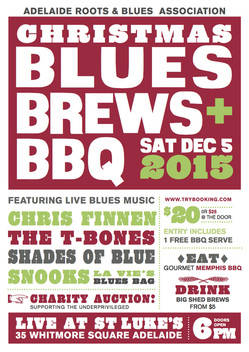 Xmas Blues Brews and BBQ at St Luke's.
​Featuring ​Chris Finnen, The T-Bones, Shades of Blue, Snooks La Vie's Blues Bag
St Luke's 35 Whitmore Square Adelaide Doors open 6pm
Bar and BBQ at 6.00 Live Music from 7:15
Online
trybooking.com
ARBA members $15 public $20
At the door: ARBA members $20 public $25
​Each ticket holder receives a complementary gourmet BBQ serve!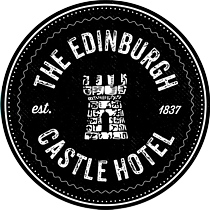 ARBA presents 'Blues at The ED'
2nd Friday of every month, Doors 9 pm
Fri Dec 11th The Bluescasters
Cover charge: $12 general public, $10 ARBA members.
Great stage and dance floor. Meals available until 9 PM.

The month of NOVEMBER in Roots, Blues & Rock History
Obscure, murky, contentious and discourteous bulletins that delve into the history of roots, blues and rock music thanks to some extensive and at times ill founded research by Dr Jerome Douvendahns.
Nov's BLUES TIME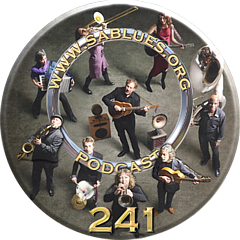 Play
|
Download
Featuring: Hazmat Modine* - Little Boys Blue - JJ Appleton & Jason Ricci - The Jimmys - The Reverend Shawn Amos - Lara & The Bluz Dawgz - Thorbjorn Risager & The Black Tornado - Chris Russell's Chicken Walk - Mitch Woods & Members Of Roomful Of Blues - Liz Mandeville - Zakiya Hooker - Zilla Project - Muddy Road - Ernie K. Doe.
*
pictured
Download MP3 from
'Subscribers'
page.
Click

for RSS. Click

for iTunes.

Sept's ROOTS & BLUES HOUR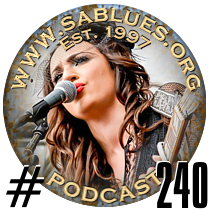 Play
|
Download
Featuring: Buzz Cason - Ana Egge - Chuck Mead - Dennis Elsworth - Lindi Ortega* - Lucero - Tracy Bonham - The Delines - Patty Griffin - Minor Cabinet - Detonators - The Delta Saints - The Deslondes - Tex Perkins & The Dark Horses - Don Morrison's Raging Thirst - Roddy Gordon Band.
*pictured
Download MP3 from
'Subscribers'
page.
Click

for RSS. Click

for iTunes.



www.sablues.org
South Australian Roots & Blues
Subscribe to sablues.org
It's FREE! Be informed via our E-Newsletter about  latest Podcasts, upcoming Gigs and special ticket offers. Subscribe and gain access to the 'Subscribers' page where you can download the latest Podcasts and other goodies!

Join the facebook group
I listen to podcasts from sablues.org
itunes, ipod and ipad users


Subscribe to podcasts at iTunes

View the
'sablues channel'
on
YouTube
.
80,000+ views. Check the comments for the popular videos. Hilarious!
View latest video:
Lera Lynn "Lately"
Music From the HBO Series: True Detective.

View sablues.org's
Music Videos

Stitcher App
for your Android or iPhone
Listen to sablues.org
Podcasts via Stitcher

JDbluesdoctor
Jerome Douvendahns on Twitter
https://twitter.com/JDbluesdoctor
Notify '
Change of Email Address
' click
here
'
Unsubscribe
' from our E-Newsletter click
here