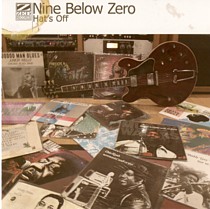 Album / Artist / Track
Hat's Off. Nine Below Zero. Talk to my baby. Zed Records
Review
The cover tells it all! Is that a big Gibson? It is an instrument pivotal to "electrified" blues. They definitely are vintage blues LPs scattered across the floor. Vinyl from the 60's listened to by many in the UK that led to a Renaissance of the blues. The Blues Breakers, The Stones, The Yardbirds and in this case a UK outfit formed in 1977 called Nine Below Zero. They all listened, absorbed, accommodated and created their strain of the blues and spread it far and wide. Have a listen to their rendition of the Elmore James song "Talk to be baby" ...and there are 13 other beauties like this one on the album.
DS
http://www.ninebelowzero.com
Online purchase:
http://cnb-host4.clickandbuild.com/cnb/shop/ninbelowzero
Audio Stream Quality: MP3. Bitrate: 56kb/s. Sample Rate: 22050Hz. Channels: Stereo.