Podcast 178.
Feb 2013's Blues Time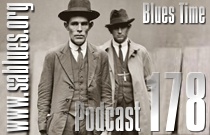 Feb 2013's BLUES TIME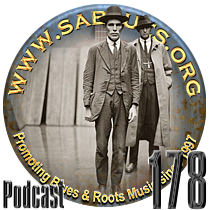 Press Play
Podcast 178 from SA Roots and Blues
ARTIST | ALBUM | TRACK
1 Russell Morris - Sharkmouth* - Walk My Blues.
2 Zachary Richard - Le Fou - Clif's Zydeco.
3 The Revelers - The Revelers - I Don't Wanna Go Home.
4 Jake Lear - Diamonds and Stones - Diamond and Stones.
5 Joanne Shaw Taylor - Almost Always Never - Tied.
6 Heart Attack Alley - Living in Hell - Cryin.
7 The Bluesmasters - Volume 2 - Fine Cadillac.
8 Tubie and the Touchtones - When The Rubber Meets The Road.
9 The Blues Overdrive - Death on the highway.
10 Walter Roland - Red Cross Blues.
11 Mississippi Fred McDowell - Red Cross Store Blues.
12 Lisa Miller - DIG Australian Blues - Red Cross Store.
13 Janiva Magness - Stronger for it - Make It Rain.
14 JD McPherson - Signs Signifiers - Signs Signifiers.
15 Hat Fitz and Cara - Wiley Ways - Tarni Lee.
* pictured
Audio Stream Quality: MP3.
Bitrate:56kb/s. Sample Rate: 22050Hz. Channels: Stereo.

Thanks to the musicians, promoters and distributors
who have allowed us to present their music.
Subscribe to SA Roots& Blues
(It's FREE) and obtain your 'user name' and 'password' to the 'Subscribers' page and download the latest quality MP3 podcasts to your Player!
'Blues Time' comes your way once a month. It draws its play list from the genres of acoustic and electric blues. Each podcast highlights new and recent releases. Duration is about an hour.

'SA Roots and Blues' is a non profit organisation. Our aim is to promote roots and blues music to an ever increasing patronage.