September 2016's BLUES TIME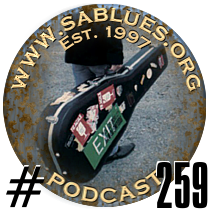 Podcast 259 from www.sablues.org
1 Ross Neilsen - Elemental - Black Coffee.
2 Chris Holm - Oh These Hard Times - Gutter and Grave.
3 Leo Welch - I Don't Prefer No Blues - Girl In the Holler.
4 Owen Campbell* - Sunshine Road - Sunshine Road.
5 Claude Hay - Roller Coaster – Burn.
6 Kris Morris - Ruins - Ceasefire.
7 Dan Bubien - Grinding These Gears - Second Hand Man.
8 Dylan Wickens & The Grand Naturals - Hi LoFi - Rock Bottom.
9 Sunday Wilde - Blueberries and Grits - Show Me A Man.
10 Vaneese Thomas - The Long Journey Home - Revelation.
11 Lily and the Drum - Buried in Blue - Are You Gonna Be Brave.
12 Bridget Kelly Band - Forever in Blues - Blues In My Kitchen.
13 Lurrie Bell - Can't Shake This Feeling - Drifting.
14 Hard Swimmin' Fish - True Believer - Howlin' For My Darlin'.
15 MFC Chicken - It's MFC Chicken Time - Gross People.
16 MFC Chicken - It's MFC Chicken Time - Bad News From The Clinic.
*pictured
Audio Stream Quality: MP3 CBR 44100Hz 320kbps.
DOWNLOAD
to your mobile media device.

Thanks to the musicians, promoters and distributors
who have allowed us to present their music.
'Blues Time' comes your way once a month.
It draws its play list from the genres of acoustic and electric blues.
Each podcast highlights new and recent releases. Duration is about an hour.
Each new podcast is made available to subscribers for downloading.
Check the 'Subscribers' page for new postings.
Our podcasts give you a taste of some of the exciting and diverse roots and blues CDs currently on offer.
It is hoped that this taste prompts you to make some purchases,
whether it's from your local record store or online.
Remember a little bit of that money trickles thro' to the musicians!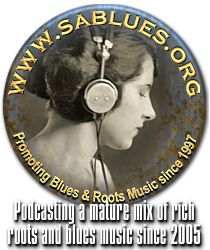 'www.sablues.org' is a non profit organisation.
Our aim is to freely promote roots and blues music to our ever increasing patronage.