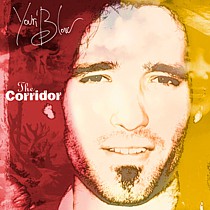 http://www.youri-blow.com/

Youri Blow - The Corridor

The evolution of that genre of music we know as the blues ...continues! Originating in the south of the USA, acoustic rural blues of the 20's and 30's had its regional differences. The raw, low-down sound from the northwest of Mississippi came to be known as Delta Blues. It was different to the more lively sound from Georgia and The Carolinas which came to be known as Piedmont blues. Each milieu injected its own ingredients and added to the richness and diversity of the genre. Electrified urban blues evolved out of the great migration.  Kansas,  Chicago and Detroit injected further phrasing, licks, riffs and runs to the mix. Texas blues, West Coast blues ... the evolution continued.
From rural regions, over state lines, from country to city, from country to country! British blues! It  saw to a rebirth of the genre. The blues became international ...and now is global !  
Which brings me to Youri Blow. He has added a further dimension to the blues genre. In his hands the evolution of the blues has taken a remarkable turn. To appreciate the richness and breadth of blues today I certainly suggest you have a listen to his latest album, Corridor. Here is a man absorbed by music. Actually after experiencing his live performance and spending the following  afternoon chatting with him I would say that he is consumed by music.
At the core of his creativity is his love of acoustic country blues.  
Corridor? Walk down this passage way and you will sense  the playing of Charlie Patton, John Hurt and Gary Davis. Along the way you will also be initiated into the milieu of Youri Blow. It is European, French, Mongolian, primal  and cosmic! Here is a journey that will take you from the dirt of the delta, across  grassy Mongolian steppe lands to the far reaches of the cosmos. His music is  mesmerising and enthralling. Listen and behold the breadth and richness of blues as it continues its remarkable evolution!
David Stoeckel
SA Roots and Blues

Youri Blow - "The Corridor" from bastien dubois on Vimeo.