Kathleen Edwards
SARB:Your first time to Australia? 4 Australian gigs ...in quick succession ...and at an interesting mix of venues. Where to after that?
KE: Some shows in the U.S. and some shows in Canada opening for Bryan Adams.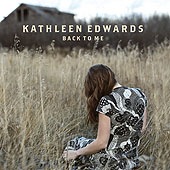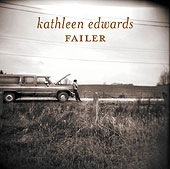 SARB: I have enjoyed listening to your latest CD "Back to me'. Just aside from the music for a moment, I must say that I like its cover ...and also the cover of "Failer". Tell me about them. The image on the cover of "Back to me" ... echoes of Edward Hopper's "Christina's world"? Your doing?
KE: Actually I get asked that all the time. It's Andrew Wyeth, but the way, not Edward Hopper. Totally unintentional, but I have come to love and see a lot of Wyeth's paintings as a result. Gorgeous paintings. The true intention of the photograph on the cover of "Back to Me" was that I was opposed to putting my face on the cover of my album. Frankly, it frustrates me when you go into a record store and all women putting out albums put their faces on the album covers, mostly because they are pressured into it by the record companies. I detest the idea that women in music are marketing the way they look before the way they sound. Having said that, record companies (mine in particular) are just trying to get people to listen to records and to buy those albums all in the name of success and I'm not opposed to success. I just like to think that I can do it without my big fat mug on the cover.

SARB: Your vocal style? It's beautifully understated, clear and articulate. I say articulate because its a delight to be able to understand the lyrics. ( One doesn't have to go to the CD sleeve to find out what the words are! ) I say understated because ...well you aren't engaging in any vocal gymnastics. Care to comment?
KE: Thank you. I never thought I was much of a singer and it has taken me a long time to get better at it. I don't do vocal gymnastics because I can't do it, but also I wouldn't want to. I have always loved a good melody sung simply rather than an overly embellished one.

SARB: I'm curious about your Canadian context. Ottawa's music scene? Rich, diverse, nurturing?
KE: Absolutely. A small community of people who are open minded and excited about pushing the envelope. I loved being around the loose cannons of that scene and they were very supportive of me and I like to think Ii'm doing them proud. We are kind of the underdogs of the "scene".... with Montreal and Toronto close by, we live in their shadow of coolness which I think has always given us a sense of being less inhibited by what other people think when we come to town to do a show.


SARB: Your music? It has the "heart ache" of county, the "angst" of Alt. Country and the "social commentary" of folk. The musicians that you have found inspirational? The music styles and genres that has influenced and shaped yours?
KE: I certainly would never consider myself a protest singer or anything that falls under the idea of that, but I also am irked by certain observations and experiences that come from life. I 'd like to think that the point of being a songwriter is to make a connection with people based on things we all experience whether for a second or a year. People always ask if I'm as sad and dark as my songs can be, but I feel that is irrelevant. I write what I feel and think, even if it is for a split second, and people are going to relate to it because they do to.... I just happen to write songs about it.

SARB: Your song writing? The themes, observations and characters you write and sing about? There's a richness, an openness and an intimacy there. There must be specific "literary" influences?
KE: I have no specific literary influence, but I also started being interested in songs when I started falling in love with books which happened around 17. Musically my influences are/have been N. Young, Petty, John Prine, Richard Buckner, Talk Talk, Sinead O'Connor, Annie Lennox, Whiskeytown, J. Cash, W. Nelson... etc.. etc.. Ii could go on and on. Thematically, I connect strongly to stories of struggle, feelings of uncertainty, pain, sadness, but also strength and courage and hope. So I just try and write what is true to me and hope that honesty is good enough.

SARB: If the lyrics don't get you then those great guitar riffs will certainly hook you in! The guitarist?
KE: Colin Cripps, Canada's most under acknowledged guitarist who is unbelievable. His playing is a real mesh of the Edge, Mike Campbell, N. Young. He has the best tone of anyone I've enver known and people always flock to him. I'm a lucky girl.

SARB: Your plans for the remainder of 2006?
KE: Sleep, foster some cats for the local humane society, get a little practice space nearby and buy a piano. I'm going to start practicing every day as though I were 14 again studying the violin. My new year's resolution was to become a better player, not a better person. Ha!

January 2006
Thanks to Nicole Jones of SHINY ENTERTAINMENT