"Take me where the sun is shining,
take me down the Highway Dancing."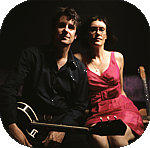 With the release of their third full-length recording including eleven new songs, well known South Australian duo The Yearlings (Robyn Chalklen and Chris Parkinson) have created an album of outstanding beauty. It breathes.
Highway Dancing is a departure from The Yearlings' stripped back, acoustic approach to recording. Using their weaving guitars and seductive harmonies as a base, this album has the backing of a band – giving full favour to The Yearlings' music.
Robyn's voice demands attention - smooth, breathy and fragile, you listen to each syllable pass you by as you lean in, turn it up and immerse yourself in a story told by a fine songwriter devoid of pretence. Her beautiful, ethereal and mysterious songs are the perfect counterpoint to Chris's earthy compositions, while his "hang-on-every-note" guitar playing remains as compelling as ever.
"Instead of getting squashed or lost in the sonic soup that is a band I think our songs have been augmented and given a new life, new clothes," says Robyn.
Recorded in Brooklyn, New York over four days during the American winter of February 2008, the album was produced by David Spelman (founding director of the New York Guitar Festival and Adelaide Guitar Festival), who saw The Yearlings playing a gig in Adelaide and felt he just had to work with them.
Inspired, David herded the musicians together at Excello studios - three members of New York roots band "Ollabelle": Tony Leone (drums), Byron Isaacs (bass), Glenn Patscha (keyboards) plus multi–instrumentalist Larry Campbell (pedal steel, dobro, mandolin, fiddle). Larry has worked as a sideman for Bob Dylan, Emmylou Harris and Willie Nelson among others and recently won a Grammy award for producing Levon Helm's latest record Dirt Farmer.
"Man, we felt so in awe of these musicians and what they have done but as soon as we started playing together it was just a bunch of similar minded people making music together, it was an experience we will never forget," says Chris.
Highway Dancing was recorded by Mick Wordley who has worked with many artists including Jeff Lang and Chris Whitley. He owns and operates Mixmasters Records in Adelaide and flew over to be a part of it all.