This Could Be Big. : 30 Years at the Dag End of The Australian Music Industry.
By Don Morrison.  2010
www.donmo.com
A rip roaring rort of a ride in bad Morris vans through the Aussie Pub rock boom.
The Morrison boys led by big brother Donald started as innocent young suburbanites in a blues band from Adelaide :The Bodgies. Not only will you roam the east coast venues & stages of the great Aussie Pub Rock era with them but Don takes you with him to the birth of Punk in London.   An unknown AC DC playing in a London Pub to a crowd of 30! 
'National honours & huge crowds follow sensational rise of small town blues band'. Not really, but they came close.   They could have been big & probably were; momentarily.  This is a sardonic rites of passage autobiography about living the Aussie rock dream/nightmare over several decades.
No huge Greyhound buses for these boys, it's the time of tired Morris Minor vans, having to swap spanners for petrol to make it home.  This was a threatening lifestyle; overloaded & overnight road miles, near asphyxiation in pre smoking ban venues, vengeful rival roadies, shady promoters, obsessive fans, abortive recording sessions…  it was the 70s & 80s after all..
Will nothing bring this true blues believer down.  Every setback gets served up to the reader with wry 
Stoicism & mordant humour.  Don claims John Lee Hooker's Boogie Children as "a high water mark of Western Civilisation"  He still wears the check shirt style inspired by  John Fogerty.
There's wily insight into social history as Don plots the effect of legislative changes like the drinking age & late closing hours on the live music scene.  Then there was the Diploma of Recreational Studies he dabbled in during the era we were told machines would do all the work & we would need help filling our leisure time.
A brief period of Employment in the tax office makes for some interesting insights into public service culture.
By the end of the book we find the same seemingly unquenchable drive to make music has spawned an empire of new ventures. It might be herding  groups of 30 ukulele players  around events , live community  radio broadcasting , busking with his sons, marketing his own hand crafted resonator guitars world wide via the internet site listed above , writing & recording albums, live band performances.     In a way it has led to something big in a 'down home' kind of way.  Thirty years of 'Dag End' experience gave us some great music & a rollicking story.
~ Lone Tony Joe (3D Radio. 93.7. )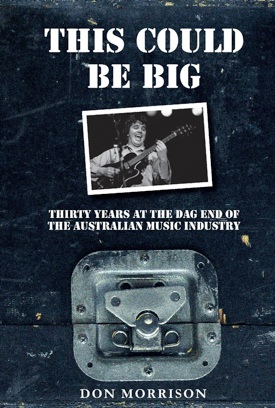 Available from:
Mr V Music, City and Semaphore.
Big Star, Magill and Norwood.
Semaphore Workers Club.
Wheatsheaf Hotel, Thebarton.
Mary Martin Bookshop, Adelaide and Norwood Parade.
Imprints, Hindley st Adelaide,
Titles, Vaughan pl. Adelaide,
Fretco Guitar Repairs, Gilbert st Adelaide.
Retail price $25.00