Mississippi John Hurt
Born: March 8, 1892 (or July 3, 1893, depending on who you ask), Teoc, Carroll County, Mississippi
Died: November 2, 1966, Grenada, Mississippi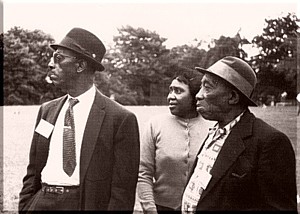 Left to Right:
Fred and Annie McDowell with Mississippi John Hurt backstage at Newport Folk Festival in 1964.

Photo by Stephen Lavere
The "rediscovery" of
Mississippi John Hurt in 1963
"In the late 1920's Hurt was just an obscure name on a few records cut for the "race" label Okeh.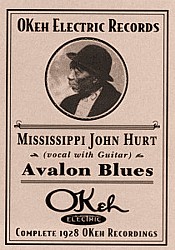 Little was known of him. This hardly distinguished him from dozens of other musicians from the Mississippi Delta who had recorded around the same time. Who these people were was anybody's guess, and, given the circumstances in which they lived and the isolation of the Delta, not to mention the racial divide, it was unlikely anyone would ever find out.
As the American folk revival gathered speed in the late 1950s, collectors taped rare 78s and the tapes circulated among young guitarists who were trying to learn these arcane playing styles, as much as a challenge to their technical abilities as anything. Deciphering, if not mastering, many of these players' styles was often easy. But the Mississippi John Hurt records stood out. Nobody else played like that.
In 1928, Tommy Rockwell, from Okeh Records, was touring Mississippi looking for talent when he was told about Mississippi John Hurt. He found John Hurt and brought him to Memphis to record a few tunes. Those tunes sold so well, that Rockwell brought John to New York for another recording session. His musical career seemed on the verge of a break through, but the great Depression would put John Hurt back into seeming obscurity to everyone but the folks in Carroll County.
After World War II, interests in his old recordings began to rise and folklorists began looking for John Hurt. Unable to find him, it was presumed that he had died, that is until blues collector Tom Hoskins realized that John's song, "Avalon Blues", referred to Avalon, Mississippi. He successfully set out to find John Hurt in 1963. Hoskins convinced John to return with him to Washington, D.C.
John went on to play at the Newport Folk Festival that year. Fans mobbed him, entranced by his gentle nature and skillful playing, and he took it in his stride. He was 71 years old, and he was a star. Mississippi John had achieved national recognition.
He had a few recording sessions, and played a good number of festivals, including the now famous Newport Folk Festival in 1964 (see above photo), at age 72. He had three years of additional fame before his death on November 2, 1966 in Grenada, Mississippi." #
Mississippi John Hurt's grave rests in quiet seclusion on a hilltop near Avalon.

# http://www.vanguardrecords.com/Hurt/home.htm
Ed Ward.