FASCINATING, OBSCURE, MURKY, CONTENTIOUS AND DISCOURTEOUS!
Bulletins that delve into the history of roots, blues and rock music thanks to some extensive and at times ill founded research by Jerome Douvendahns.

On this day in October
1
|
2
|
3
|
4
|
5
|
6
|
7
|
8
|
9
|
10
|
11
|
12
|
13
|
14
|
15
|
16
|
17
|
18
|
19
|
20
|
21
|
22
|
23
|
24
|
25
|
26
|
27
|
28
|
29
|
30
|
31
Trigger Warning: www.sablues.org advises that Jerome's research may cause offence to those of the PC persuasion! Be advised that Jerome's research has no profanity, no gratuitous violence, no overt portrayal of sexual activity and no lurid nudity but don't let that deter you, please read on!
On this day the 1st of October
On this day back in 1967 Mick Jagger's apartment in London was burglarized, with girlfriend Marianne Faithfull's fur coat and jewelry being among the items listed as stolen. It was only later that Mick realised that Marianne was in the fur coat at the time!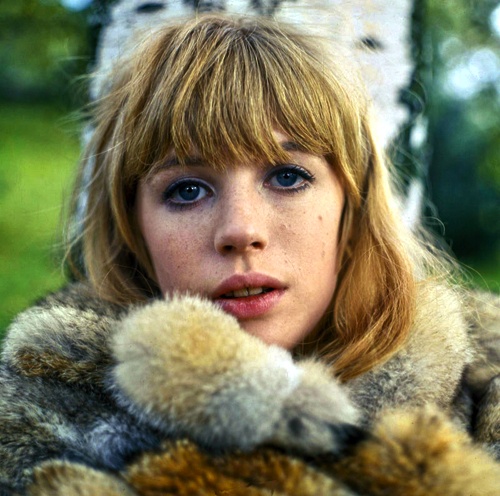 On this day the 2nd of October
1977 : After a plot is uncovered to steal it, Elvis Presley's body is moved from its Memphis mausoleum to its final resting place in the Meditation Garden at Graceland.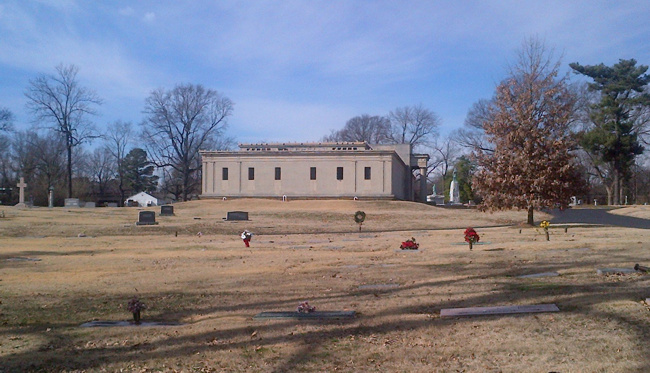 Photo caption: Elvis has left the mausoleum!
"Im goin' to Graceland, Graceland!".
Rocker Tom Petty died Monday 2nd October 2017 after suffering a cardiac arrest, his family confirmed, hours after news organisations retracted unconfirmed reports of his death.
Tom Petty, the heartland rocker whose classic melodies but dark storytelling created a string of hits over four decades, died Monday of cardiac arrest, his family said. He was 66.
In a speech in February2017 as he was presented a lifetime award at the Grammys, Petty said he owed a debt to African Americans such as Chuck Berry whom he credited as the creators of rock 'n' roll.
But like so many music fans of his generation, he discovered rock 'n' roll via Britain when he saw The Beatles perform on 'The Ed Sullivan Show' in 1964. "I had my eyes opened like so many others and I joined the conspiracy to put black music on the popular white radio," Petty said. Petty in the late 1980s joined one of The Beatles, George Harrison, in a supergroup, the Traveling Wilburys, that also featured Bob Dylan. The project was short-lived after the death of another member, Roy Orbison.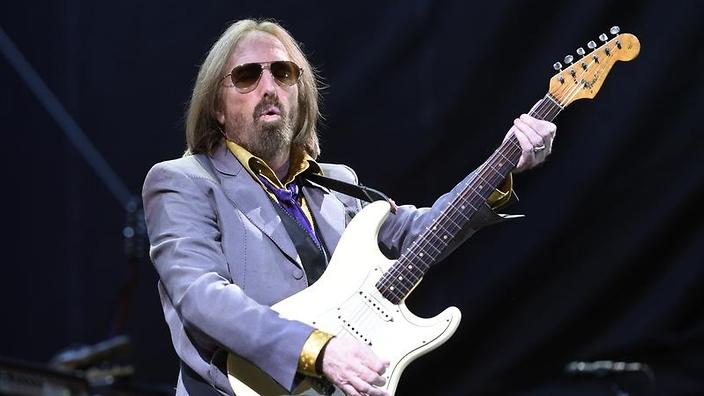 On this day the 3rd of October
1969: Skip James, American blues musician (b. 1902) died.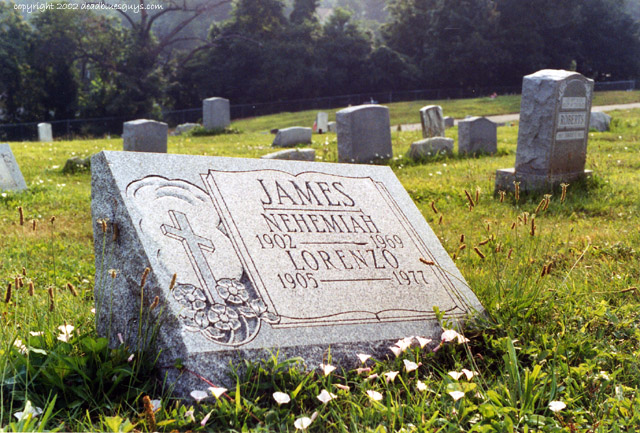 Merion Memorial Park, Bala-Cynwyd, PA USA

1967 : Woody Guthrie died at age 55 after a long battle with Huntington's disease.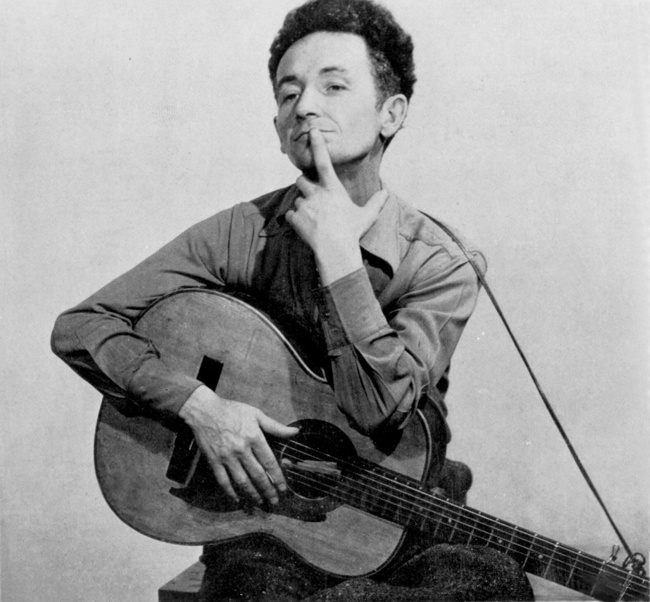 On this day the 4th of October
On 4th Oct 2016 Caroline Crawley who was a guest singer on This Mortal Coil's album Blood, well... has left this mortal coil. In 2013, NME ranked the album Blood at number 493 in its list of The 500 Greatest Albums of All Time.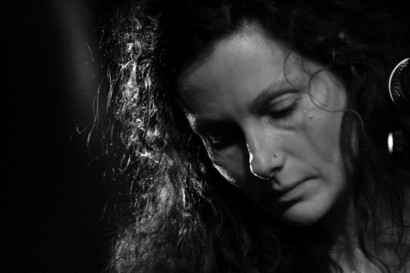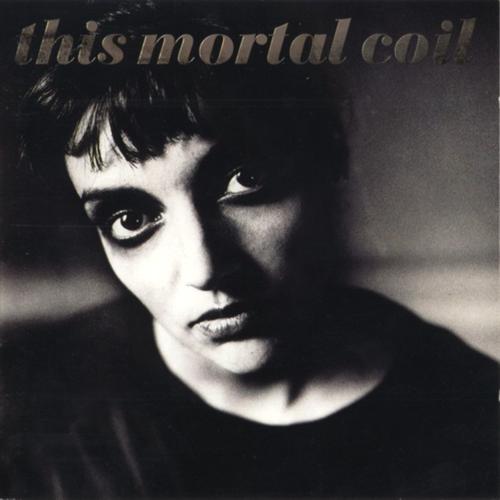 On this day the 4th of October back 1921 Blues vocalist Lucille Hegamin signed a one-year exclusive contract with the Cameo Record Corporation in the USA. Hegamin was the second African-American Blues singer to release a record in 1920, just few months after Mamie Smith's "Crazy Blues". Hegamin's Cameo recordings didn't sell well ...because no one could read the bloody label! After her brief cameo on Cameo Records she signed with ARTO. Her record of 1921 "Arkansas Blues" was one of the most popular records of 1921 and made her a star of the blossoming Blues scene. Overseas blues enthusiasts have always had trouble finding this recording because they don't know how to pronounce Arkansas!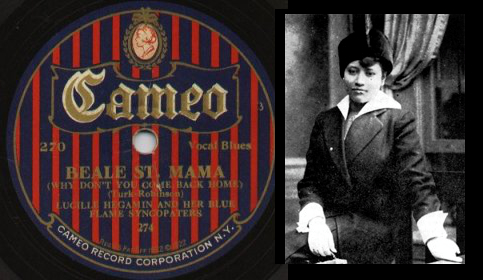 On this day the 5th of October
On this day the 5th of October back in 1937 Curtis Wheeler was born. He would find success as New Orleans bluesman, guitarist, songwriter and recording artist 'Rooster'. At nightfall he would get down off his perch and strut around on Bourbon Street and entertain folks. He often performed until daybreak when at dawn he really found his voice.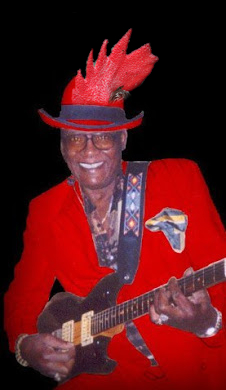 Photo caption: What a cock!
October 51959
21 year old Paul Evans reaches the Billboard chart for the first time with a novelty song called "Seven Little Girls" (sittin' in the back seat, kissin' and huggin' with Fred). Controversy was averted when it was revealed all the little girls were over 18!
October 5 1962
The Beatles' first single, "Love Me Do", backed with "P.S. I Love You", is released in the UK. The record gets its first radio play the same evening on the EMI-owned Radio Luxembourg and will peak at #17 on the UK chart in December.
October 5 1965
Johnny Cash was arrested crossing the Mexican border into El Paso, Texas after customs officials found hundreds of pills in his guitar case. He would receive a suspended jail sentence and a $1,000 fine.
Ah! So that's why his guitar wasn't in-tune for his Mexican gigs!
On this day the 6th of October
On this day the 7th of October back in 1939 Mel Brown was born in Jackson, Mississippi, USA. He enjoyed an acclaimed career as a blues guitarist and pianist, working for many years in the band of Bobby 'Blue' Bland, as well as pursuing a solo career. In 1971, Mick Jagger asked Mel to introduce him to Bobby Blue Bland. Bland responded by saying "Mick who?" but asked Mel to join his band. Mel took him up on the offer and worked on and off with Bland through 1981. In addition to his own albums Mel also appeared on recordings by John Lee Hooker, Lightning Hopkins, Roy Brown, Earl Hooker, Charles Brown and B.B.King. Mick Jagger didn't ask Mel to introduce him to these guys.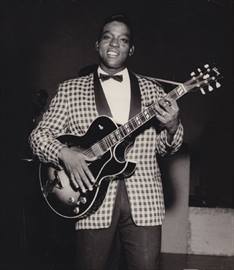 October 6 1978
J O K NOLONGER OK!
Johnny O'Keefe, who has often been called the undisputed King of Australian Rock 'n' Roll with twenty-nine Top 40 hits to his credit in Australia between 1959 and 1974, died following a heart attack induced by an accidental overdose of prescribed drugs. He was 43.
October 6 2011
ROLLIN STONE READERS EXHIBIT GOOD TASTE!
Starship's "We Built This City" was named 'The worst song of the 1980s' in a poll by Rolling Stone magazine. "The Final Countdown" by the Swedish band Europe came in second and "Lady in Red" by Chris de Burgh was third. Also making the top five were Wham!'s "Wake Me Up (Before You Go Go)" and "The Safety Dance" by Men Without Hats.

On this day the 7th of October
On this day back in 1967 and after a London hotel accused The Mamas & The Papas' Cass Elliot of running out on her bill, the singer was jailed overnight and strip-searched, forcing the cancellation of both an upcoming gig and television appearance. Truth is that with Cass being such a big girl the strip search actually took all night!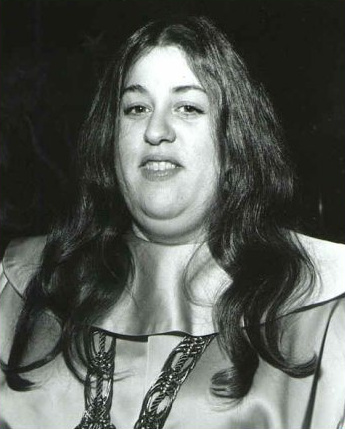 Photo caption: Please search me again!

Route 66 the American television drama premiered on CBS on October 7, 1960, and ran until March 20, 1964, for a total of 116 episodes.
Cast: Martin Milner (Tod Stiles), George Maharis (Buz Murdock), Glenn Corbett (Linc Case).
Basis: Two friends (Tod and Buz, later Tod and Linc) travel across the country by car seeking to experience life and a place to eventually settle down.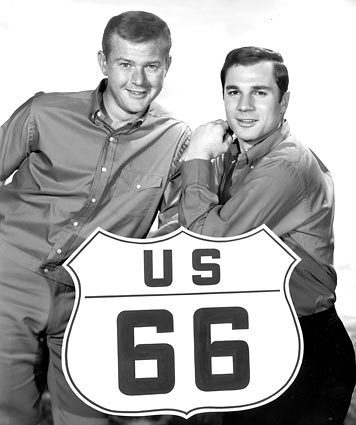 On this day the 8th of October
1980 : During his performance at Pittsburgh's Stanley Theater, Bob Marley collapsed on stage and was rushed to New York's Sloan-Kettering Hospital for treatment, then flown to Ethiopia for rest. It was to be his last stage performance before losing his battle with cancer in 1981.
October 8 1957
GREAT BALLS OF FIRE!
As a follow-up to his six million seller, "Whole Lotta Shakin' Goin' On", Jerry Lee Lewis records his biggest hit, "Great Balls of Fire" at Sam Phillips' Sun Studio in Memphis, Tennessee. When released a month later it will sell over a million copies in the first ten days, eventually selling five million more. The record will peak at #2 in January, 1958, being kept out of the top spot by Danny And The Juniors' "At The Hop".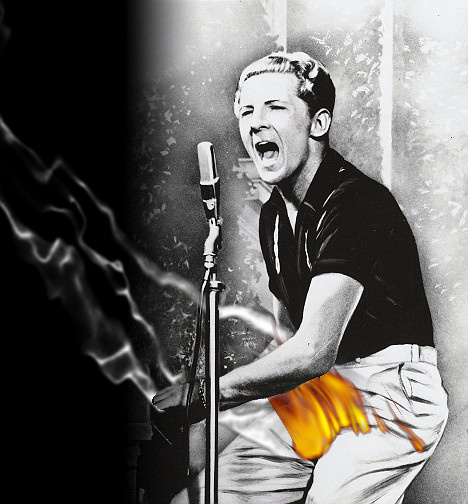 October 8 1966
JUST DESERTS!
Cream drummer Ginger Baker collapsed on a Sussex University stage after playing a 20 minute drum solo. He recovered in a local hospital. Pity! The concert goers are still recovering!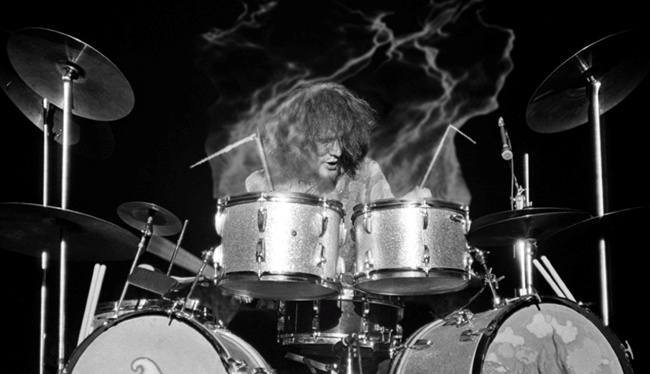 Baker at the 19 minute mark of his drom solo.,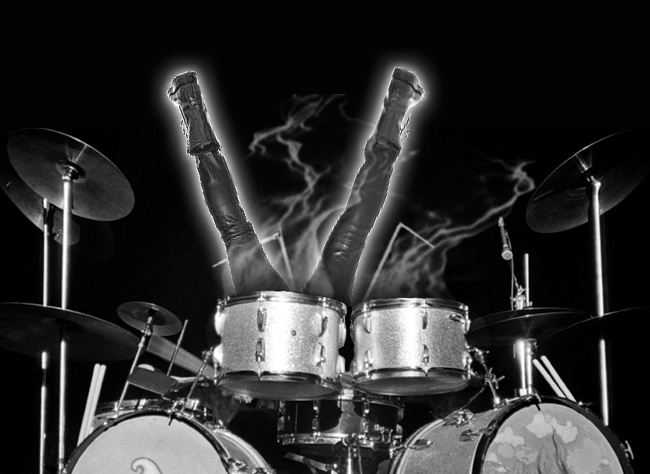 Baker at the 20 minute mark of his drum solo!
On this day the 9th of October
Sister Rosetta Tharpe died on this day October 9, 1973
Sister Rosetta Tharpe (born March 20, 1915) was an American singer, songwriter, guitarist and recording artist. A pioneer of mid-20th-century music, she attained popularity in the 1930s and 1940s with her gospel recordings, characterized by a unique mixture of spiritual lyrics and rhythmic accompaniment that was a precursor of rock and roll. Tharpe's performances were curtailed by a stroke in 1970, after which one of her legs was amputated as a result of complications from diabetes. On October 9, 1973, the eve of a scheduled recording session, she died in Philadelphia, Pennsylvania as a result of another stroke. She was buried in Northwood Cemetery in Philadelphia.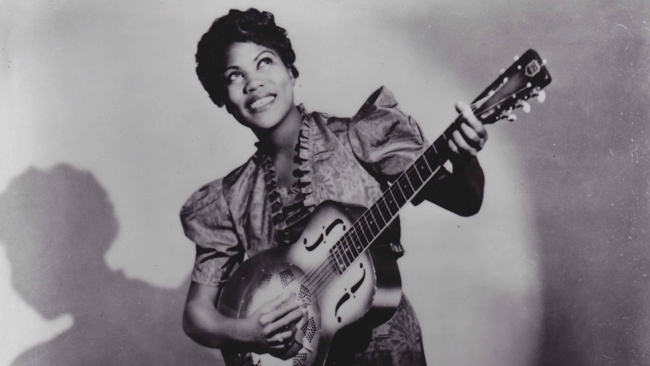 1969: BBC's Top Of The Pops refused to play the #1 hit in the country for the first time. The song, Serge Gainsbourg's "Je T'Aime Moi Non Plus," was considered one of the first "orgasm records," that is, one of the first to feature heavy female breathing and moaning.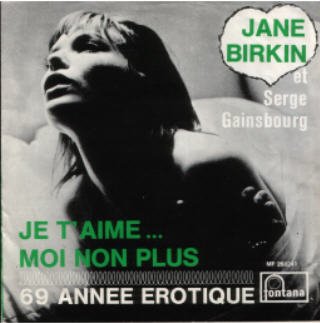 Photo caption: Jane finds her G Spot!
On this day the 10th of October
In 1902 at Kalamazoo, Michigan, mandolin maker Orville Gibson founded the Gibson Mandolin-Guitar Mfg. Co, Ltd. In 1936 it would create the first commercially successful electric guitar.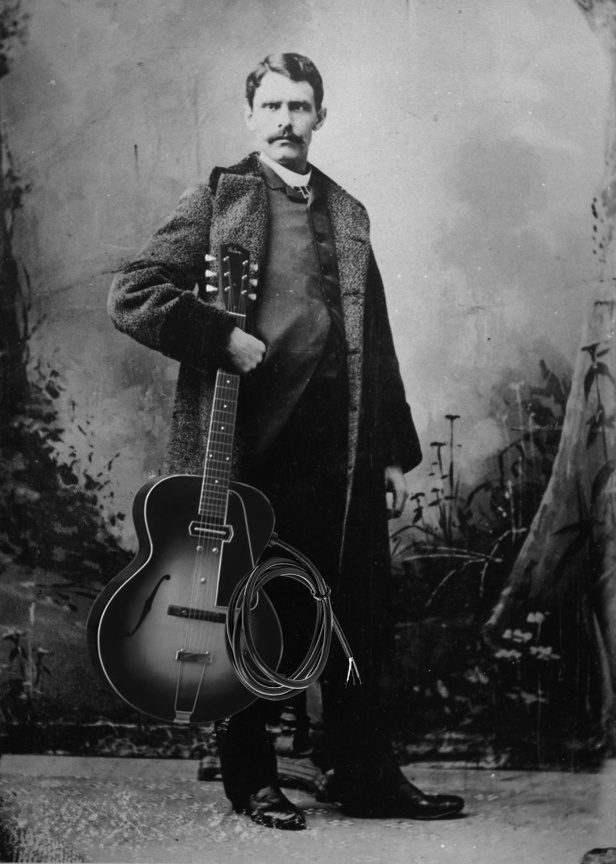 October 10 1939
The real Eleanor Rigby died in her sleep of unknown causes at the age of 44. The 1966 Beatles' song that featured her name wasn't really written about her, as Paul McCartney's first draft of the song named the character Miss Daisy Hawkins. Eleanor Rigby's tombstone was noticed in the 1980s in the graveyard of St. Peter's Parish Church in Woolton, Liverpool, a few feet from where McCartney and Lennon had met for the first time in 1957.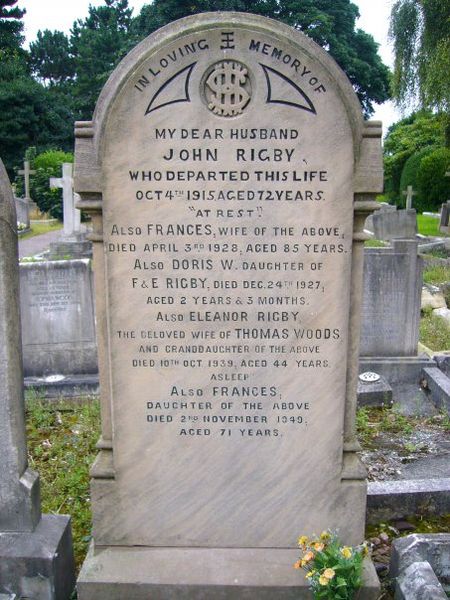 October 10 1960
UK POP FANS EXHIBIT BETTER TASTE THAN THEIR US COUNTERPARTS!
A silly novelty song called "Mr. Custer" by Larry Verne was the number one single in America. The record told a story about a US cavalry trooper who tries to talk his way out of fighting the Sioux Indians at Little Big Horn in 1876. The song failed to chart at all in the UK.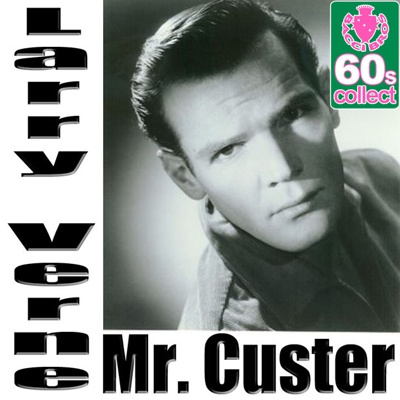 October 10 2010
PAGING MR BURKE, YOU PLANE IS ABOUT TO LEAVE!
Solomon Burke, a pioneering Soul singer and Rock and Roll Hall of Fame inductee, died at Amsterdam's Schiphol airport . He was 70 years old. Three spare seats became available on the flight he was about to take.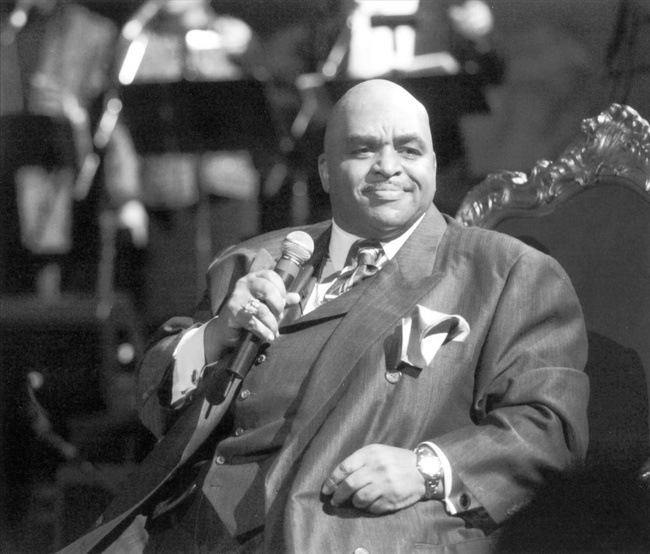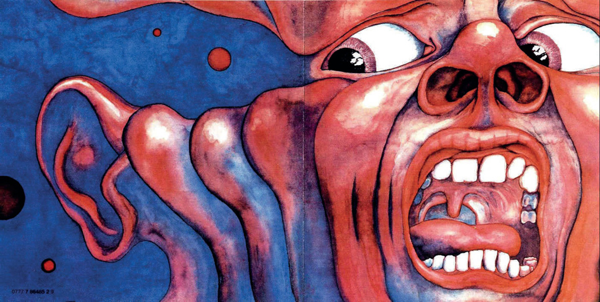 King Crimson start the residancy in The Court Of The Crimson King on October 10th 1969
On this day the 11th of October
Back in 1969 Muddy Waters was severely injured in a car crash just outside Chicago that left three other passengers dead. Waters would remain absent from music for about a year, and would rarely stand up on stage again.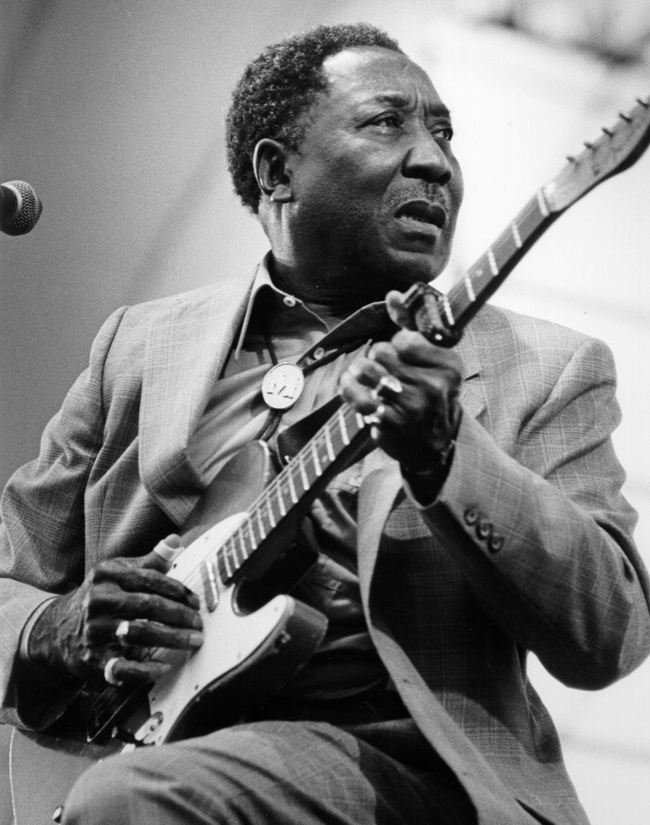 October 11 1991
AN APPLE A DAY KEEPS THE LAWYERS IN PAY!
Apple Computer settled a lawsuit launched by The Beatles' record company, Apple Corporation, over name and logo rights. The computer company reportedly paid about $29 million to settle the suit.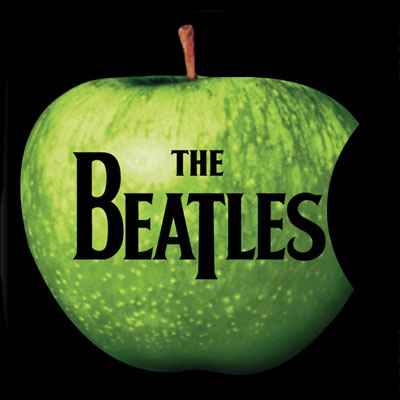 The bite represents the lawyers fees.
On this day the 12th of October
On this day the 12th of October back in 1917 the first recording royalty dispute was settled when Judge Carpenter decided that jazz clarinet player Alcide Nunez was not entitled to copyright on the recording of 'Livery Stable Blues' by the Original Dixieland Jazz Band because,
"No living human being could listen to that result on the phonograph and discover anything musical in it."
Nunez had claimed that he co-wrote the song before leaving the group. If the good judge adjudicated that about a jazz recording, just imagine what he would bring down about blues recordings!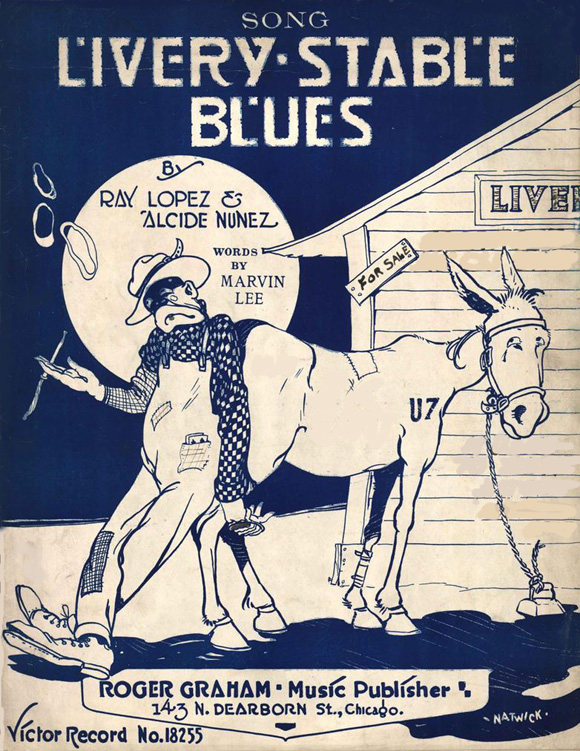 October 12 1957
LITTLE RICHARD SEES THE LIGHT DOWN-UNDER!
On tour in Sydney, Australia, Little Richard denounces Rock 'n' Roll, saying "If you want to live for the Lord, you can't take Rock and Roll too. God doesn't like it." When his sax player, Clifford Burks, dares Richard to prove his "faith in God," Little Richard tosses four diamond rings, valued at $8,000, into Sydney's Hunter River and soon after launches a Gospel career. Five years later, he would switch back to Rock 'n' Roll.
Divers in Sydney are still trying to find those rings!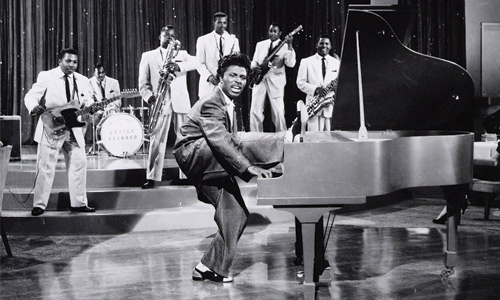 Little Richard about to put his foot in his mouth and declare "God dont like no rock 'n' roll".
October 12 1971
Gene Vincent, most often remembered for his 1956 hit "Be Bop A Lula", died of a bleeding ulcer at the age of 36.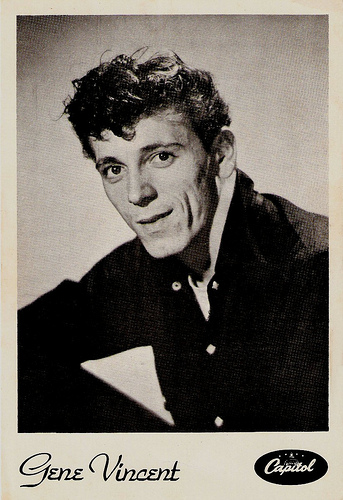 Be bopped and lula-ded!
On this day the 13th of October
On this day the 13th of October back in 1966 The Cream [including Eric Clapton] played at the New Yorker Discotheque, Milton Road, Swindon, Wiltshire, UK.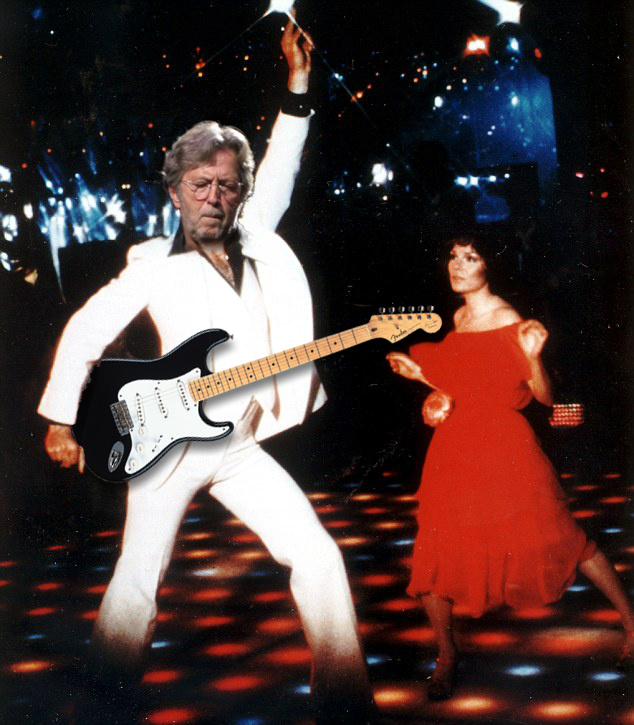 October 13 1970
Janis Joplin's ashes are scattered off the coast of California. The event inspired the Coen Brothers to do something similar in their 1998 movie "The Big Lebowski".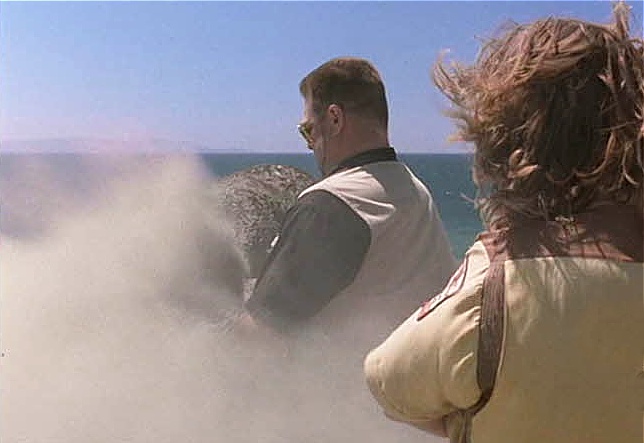 ashes to ashes ...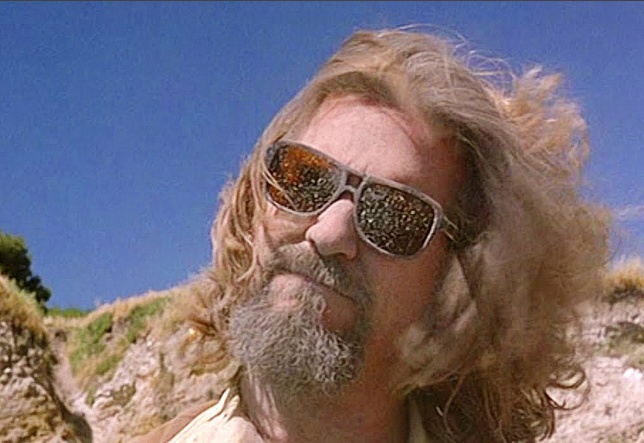 dust to dust!
and God bless the sea breeze!
On this day the 14th of October
On this day the 14th of October back in 1961 Sonny Terry and Brownie McGhee played at The Cavern Club, Liverpool, UK.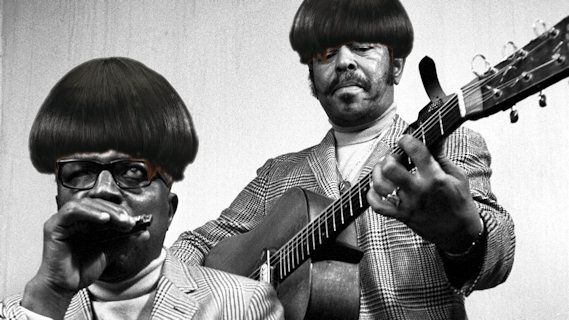 October 14 1971
GOOD GOLLY NO!
Music publishing firm Arco Industries files a $500,000 dollar lawsuit against Creedance Clearwater Revival's John Fogerty, claiming that Fogerty's song Travelin' Band contains substantial material copied from Little Richard's "Good Golly, Miss Molly". The suit is eventually dropped.
October 14 1972
Joe Cocker was arrested on drug charges in Adelaide, Australia. He could have faced penalties ranging from a $2,000 fine to two years in prison, instead he was given a four-hour notice by the town sherrif to leave the country.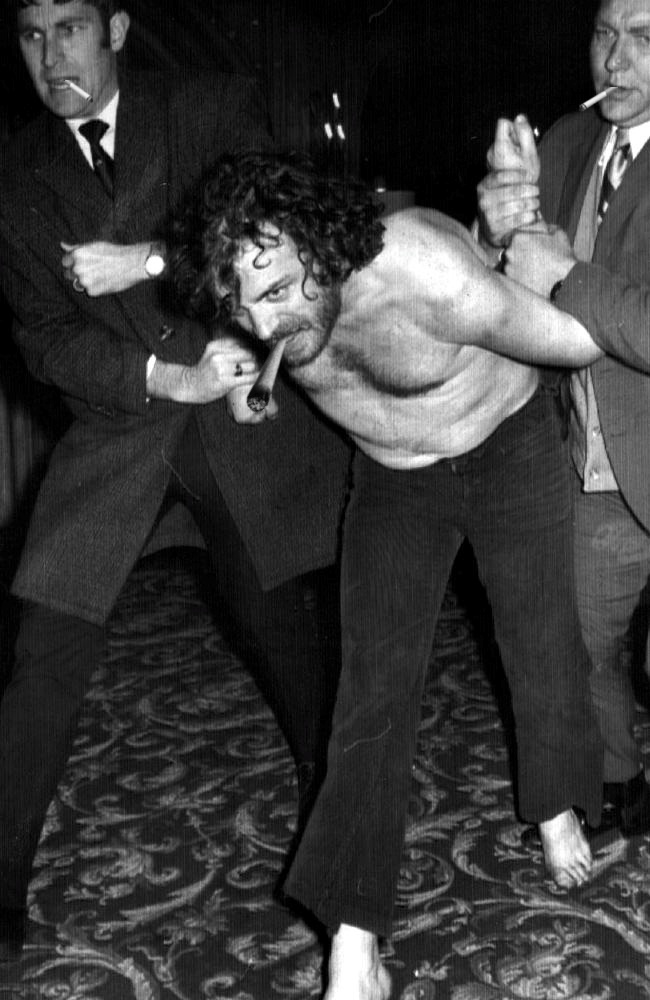 Deputies arresting Joe before the Sherrif runs him out of town!
On this day the 15th of October
C. C. RIDER first recorded October 15, 1924
The history of ''C. C. Rider'' could potentially be viewed as a history of the folk process itself. Since its original recording under the title ''See See Rider'' on October 15, 1924, in New York by Gertrude ''Ma'' Rainey for Paramount Records, it has undergone several transformations which have incorporated the various styles of blues, jazz, folk, and rock 'n' roll.
On this day the 15th of October back in 1969 Prog-rock pioneers Yes released their eponymous debut album in the USA on Atlantic Records. On hearing it, blues giant Howlin' Wolf suffered a heart-attack, but survived for six more years despite Yes releasing many more follow-up albums.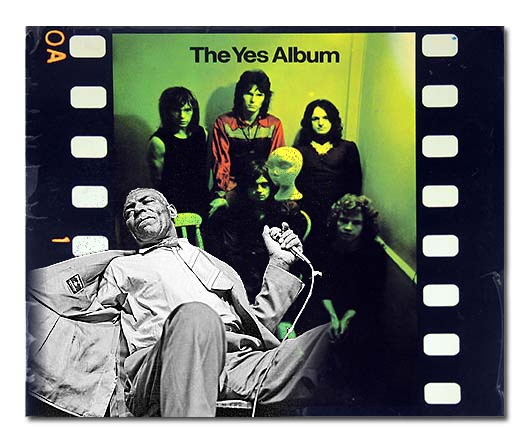 October 15 1971
It was a blessing in disguise when Rick Nelson played the seventh annual Rock 'n' Roll Revival Show in New York. He thought he was being booed for not playing his old hits and came away with the inspiration to write what would be his last Top Ten hit, "Garden Party", which would climb to number six in 1972. It was later revealed that the crowd was booing some trouble makers who had started a fight and were being escorted out of the building.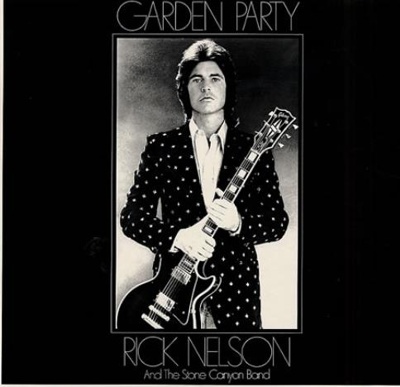 Some sections of the crowd booed trouble makers and also Nelson's jacket!
>
On this day the 16th of October
On this day the 16th of October back in 1903 Joseph Lee Williams was born in Crawford, Mississippi, USA. As vocalist and guitarist Big Joe Williams became the living embodiment of the rambling bluesman, with a long and influential recording career. He mastered not just the conventional six-string guitar but an electric nine-string instrument. He played his electric nine-string guitar through a small ram shackled amp with a pie plate nailed to it and a beer can dangling against that. One of his first recorded songs was 'Sloppy Drunk Blues' for the 1960 album 'Tough Times'. For that session Big Joe used a whole lot more beer cans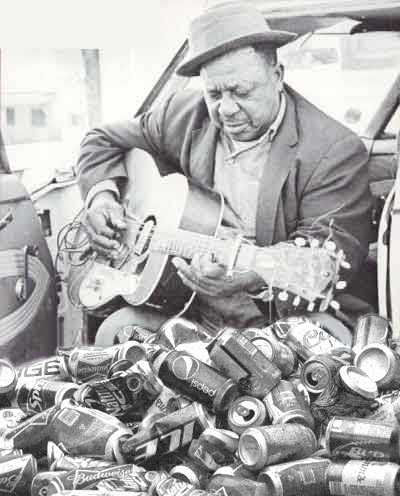 October 16 2001
FIRED FOR DOING THEIR JOB!
Two security guards were fired after refusing to allow Bob Dylan into his own concert. Dylan, who had demanded that security on his Love and Theft tour should be tighter than ever, didn't have a pass when he arrived backstage.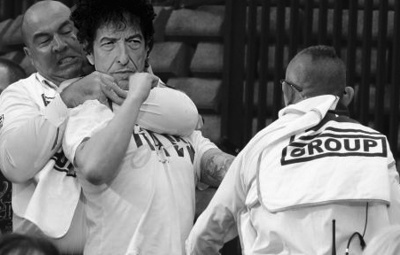 On this day the 17th of October
1984: Alberta Hunter, US blues singer/composer, dies at 89


On this day the 17th of October back in 2005 Fats Domino returned to his Ninth Ward home for the first time since Hurricane Katrina to find it utterly destroyed, with his piano and several of his gold records among the ruined items.

On this day the 17th of October back in 1969 B.B. King and Albert King played the first of two nights at The Kinetic Playground, 4812 North Clark Avenue, Chicago, Illinois, USA. The crowd was hoping Freddie King would be joining them as well. It wasn't until the 25th of December that the three kings appeared together.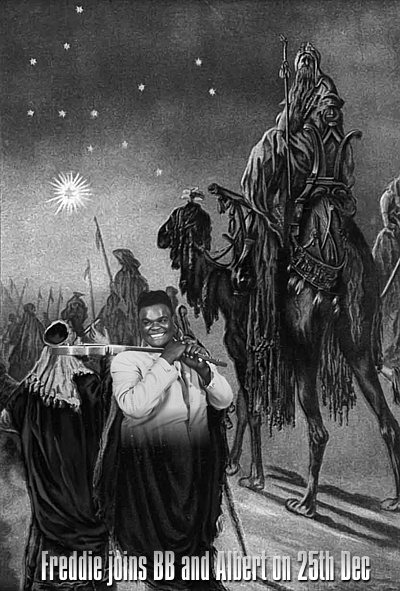 On this day the 18th October
BERRY CRAWLS!
On this day the 18th of October back in 1926 Charles Edward Berry (rock'n'roll pioneer Chuck Berry) was born in St Louis, Missouri, USA. As a baby he learns to crawl then walk. As an adult he learns how to crawl gain!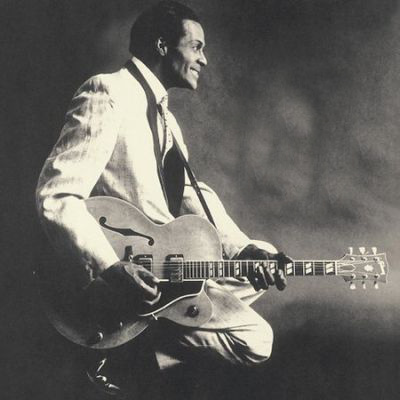 October 18 1947
BERRY WALKS!
On his twenty-first birthday, Chuck Berry leaves jail after serving three years for armed robbery. He would go on to hang bumpers on cars in an automotive factory, a janitor in an apartment building, and then as a beautician before recording "Maybellene" for Chess Records in 1955.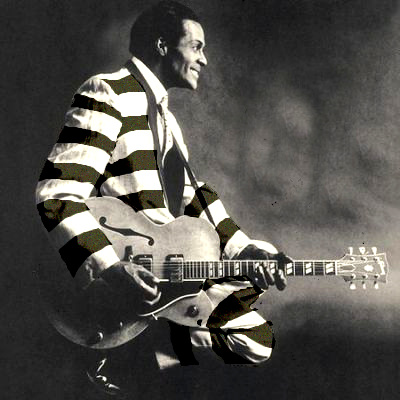 On this day the 19th of October
19th October 1988 Blues singer/guitarist Son House dies of cancer of the larynx at age 86.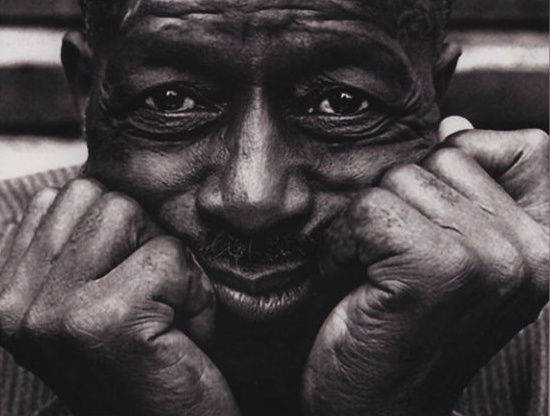 On this day the 19th of October back in 2009 Blues guitarist and singer Seasick Steve miraculously reappeared after claiming he travelled back in time to 1929. His reappearance coincided with the release his fourth album, Man From Another Time in which he opted for analogue recording equipment, the acoustics of a phone box and his one string 'diddley bo' guitar.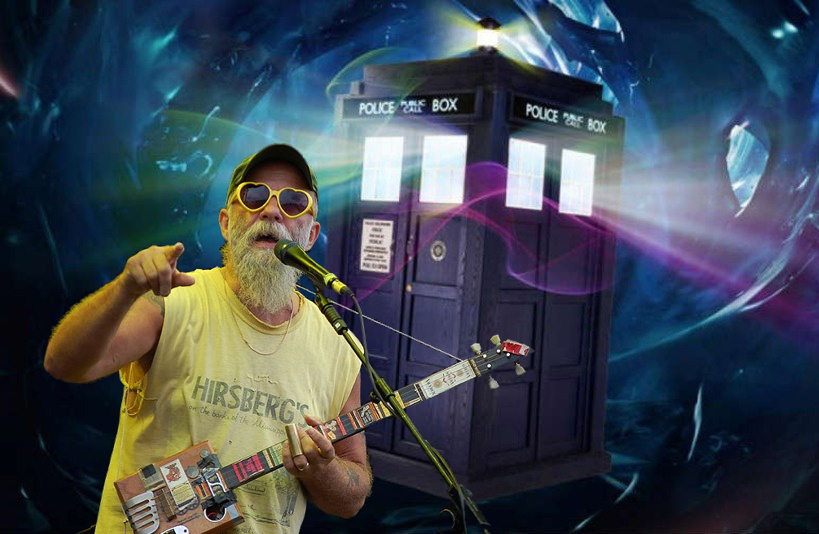 Keith Reid was born October 19, 1946. Although he did not sing or play an instrument, as a lyricist he was a pivotal element to the long-term success of art rock mainstays Procol Harum, teaming with vocalist/composer Gary Brooker to write all of the group's material. "A Whiter Shade of Pale," which set Reid's surreal lyrics to a Brooker melody lifted from Johann Sebastian Bach's Suite No. 3 in D Major.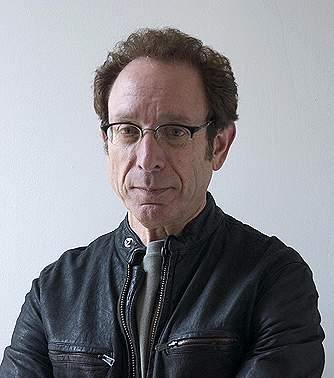 We skipped the light fandango
Turned cartwheels 'cross the floor
I was feeling kinda seasick
But the crowd called out for more
The room was humming harder
As the ceiling flew away
When we called out for another drink
The waiter brought a tray
And so it was that later
As the miller told his tale
That her face, at first just ghostly,
Turned a whiter shade of pale
She said, 'There is no reason
And the truth is plain to see.'
But I wandered through my playing cards
And would not let her be
One of sixteen vestal virgins
Who were leaving for the coast
And although my eyes were open
They might have just as well've been closed
And so it was that later
As the miller told his tale
That her face, at first just ghostly,
Turned a whiter shade of pale
And so it was that later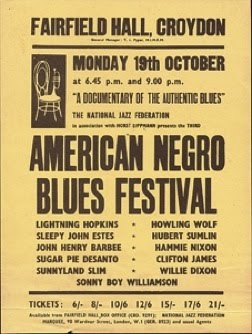 19th of October 1964 the incredibly influential English concert called the "American Negro Blues Festival" kicks off, featuring Howlin' Wolf, Willie Dixon, Lightnin' Hopkins, and Sonny Boy Williamson, among others. It is the first glimpse of these bluesmen for many upcoming British R&B and rock legends.
1977 In Greenville, South Carolina, Lynyrd Skynyrd play their last show before the plane crash that kills three of their members. Nazareth is the opening act.
On this day the 20th of October
Born October 20, 1890 Ferdinand Joseph LaMothe, known professionally as Jelly Roll Morton. He was an American ragtime and early jazz pianist, bandleader and composer who started his career in New Orleans, Louisiana. Notorious for his arrogance and self-promotion, Morton claimed to have invented jazz outright in 1902—much to the derision of later musicians and critics.
On this day the 20th of October back in 1958 on a rare visit to the UK, Muddy Waters played at St Pancras Town Hall, London, UK, accompanied on piano by Otis Spann.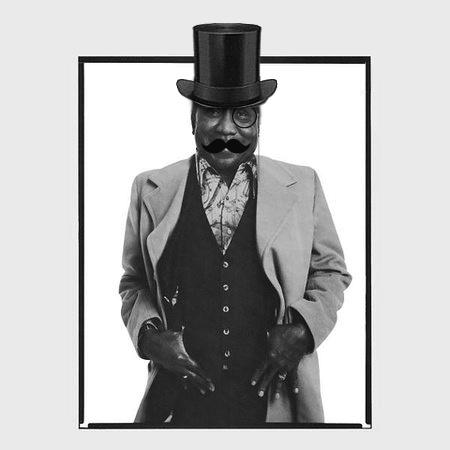 October 20 1977
Three members of Lynyrd Skynyrd, Ronnie Van Zant, Steve Gaines, his sister Cassie Gaines (one of three backing singers) and manager Dean Kilpatrick were killed in a plane crash en route from Greenville, South Carolina, to Baton Rouge, Louisiana. The remaining members, Gary Rossington, Allen Collins, Billy Powell and Leon Wilkeson were seriously injured, but all recovered. The band was finished for ten years, until the survivors invited Ronnie's younger brother Johnny to join them in a reunion concert.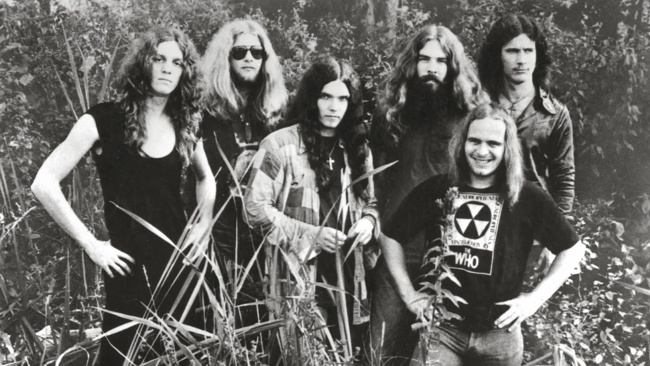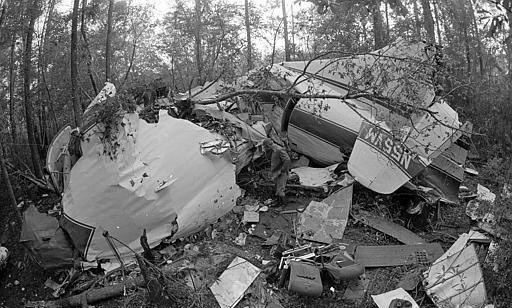 1997 Canned Heat guitarist Henry "The Sunflower" Vestine, age 52, dies of respiratory and heart failure in a Paris hotel room just after finishing a European tour with the band.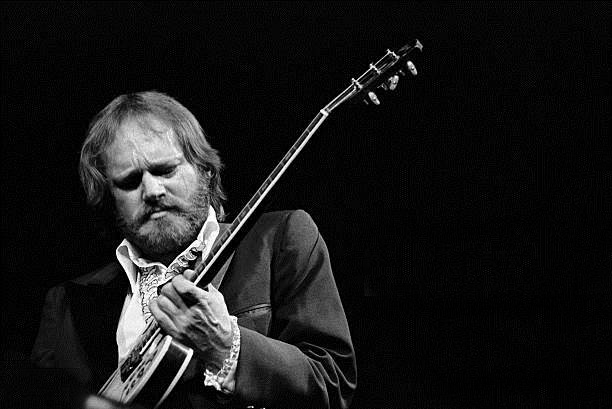 On this day the 21st of October
Back in 1908 the first two-sided vinyl record was offered for sale by the Columbia label in an ad running in this week's Saturday Evening Post.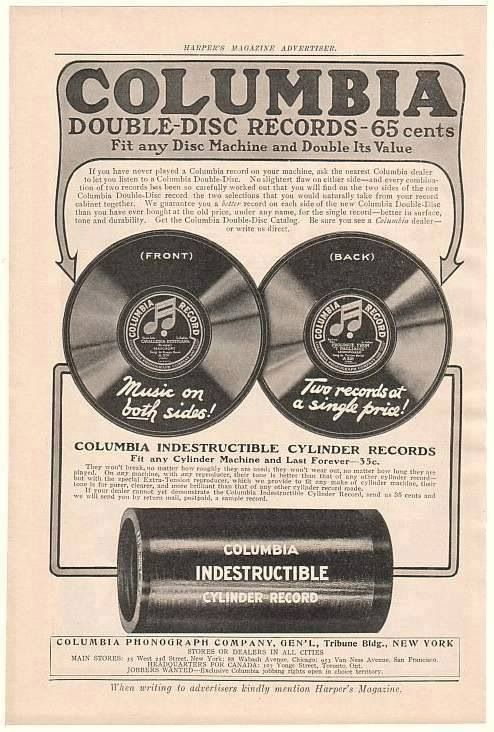 Born October 21, 1942 Elvin Richard Bishop, American blues and rock musician as singer and guitarist, a bandleader, and a recording artist. He was an original member of the historic 1960s group, the Paul Butterfield Blues Band and as such, was inducted into the Rock and Roll Hall of Fame in 2015.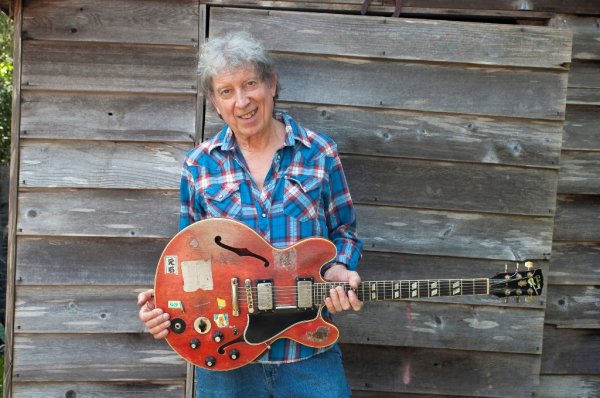 October 21 1967
ONCE AGAIN UK POP FANS EXHIBIT BETTER TASTE THAN THEIR US COUNTERPARTS!
The glaring differences in musical tastes between the United States and Great Britain were never more evident than when "To Sir With Love" by Lulu hit number one in the US, where it would stay for 5 weeks. The record didn't even chart in the UK.
2004 Bo Diddley postpones a concert in California to have a toe amputated due to complications from diabetes.

On this day the 22nd of October
October 22nd 2017 George Young from The Easybeats and Flash and The Pan died at the age of 70 in Portugal. The songwriting duo of Vanda and Young gave us the 1966 classic "Friday on my Mind".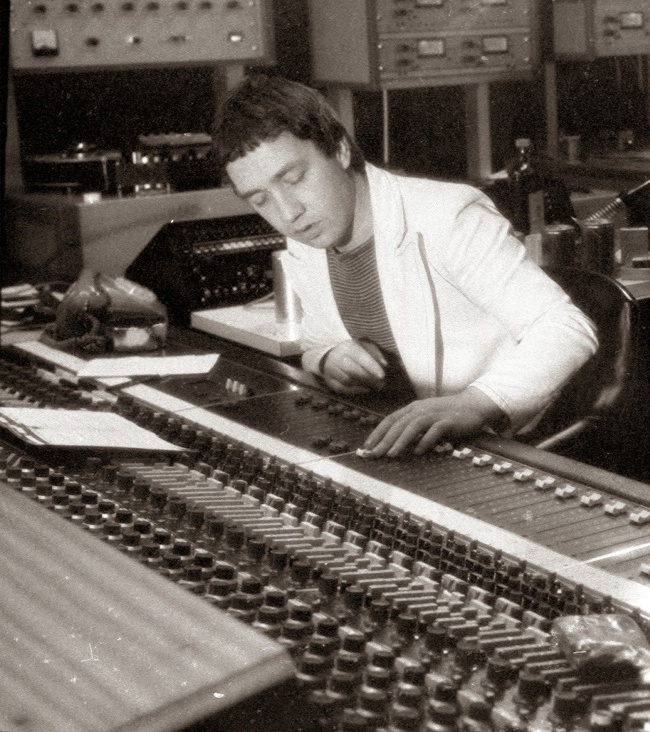 American singer and songwriter Shelby Lynne was born Shelby Lynn Moorer on October 22, 1968 in Quantico, Virginia.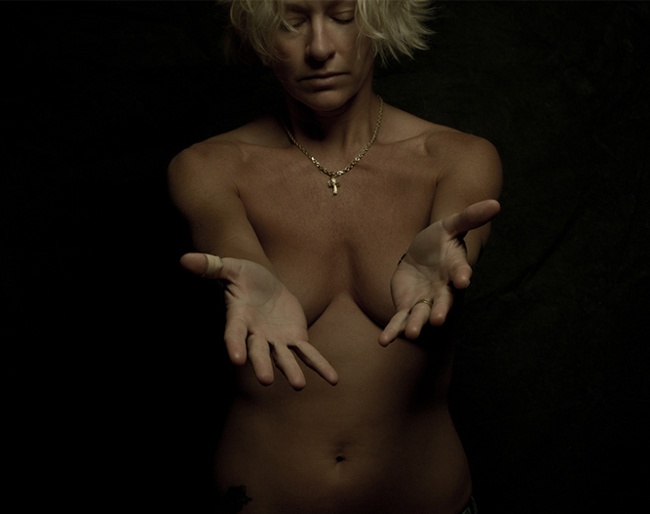 It's Shelby in her birthday suit.
On this day back in 1969 Paul McCartney officially denied that he was dead.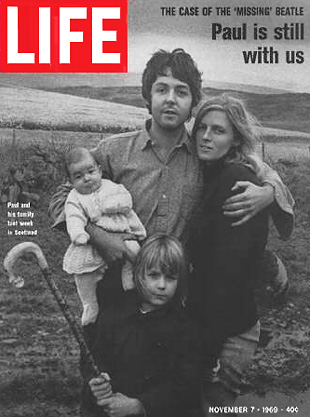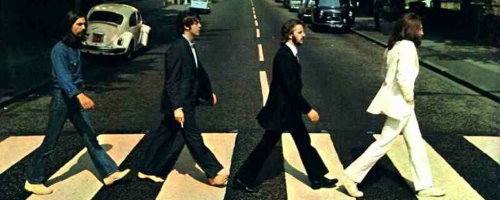 On this day the 23rd of October
On this day the 23rd of October back in 1892 Rufus Perryman was born in Monroe, Louisiana, USA. He would find success as boogie-woogie, barrelhouse blues pianist Speckled Red. His nickname was derived from him being an albino and with his hat off, his bold head reminded his mamma of the light speckled kidney beans she used in the salads.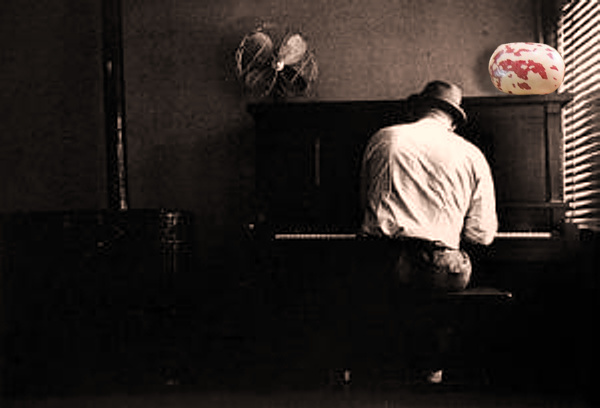 October 23 1961
Dion DiMucci continued his hit streak after leaving The Belmonts when "Runaround Sue" went to number one in the US. It reached #11 in the UK. Although he married a girl named Sue, Dion said he was thinking about a girl named Roberta when he wrote the song.
"Runaround Roberta" failed to chart.

October 23 1964
In one of Rock and Roll's most ironic tragedies, the man who replaced Buddy Holly as the lead singer of The Crickets, 21 year old David Box, was killed when the Cessna Skyhawk 172 he had chartered, crashed and burned, killing all on board. Box joined the group in early 1960, but left for a solo career a year later.
1978 "Mother" Maybelle Carter died in Hendersonville, Tennessee, at age 69, inspiring her son-in-law Johnny Cash's song "Tears in the Holston River."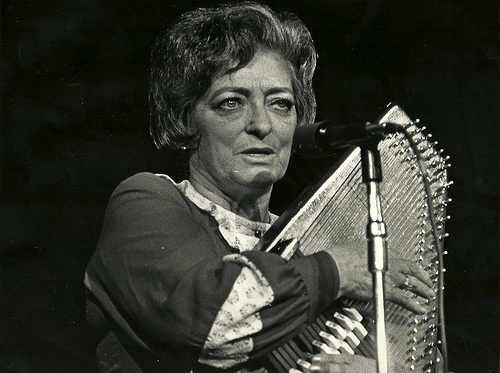 1950 Al Jolson, once called "The World's Greatest Entertainer," dies of a massive heart attack during a card game in San Francisco, California, at age 64. He was probably playing Blackjack!

On this day the 24th of October
R.I.P. Fats Domino, rock 'n' roll pioneer has died at age 89. Fats Domino, the amiable rock 'n' roll pioneer whose steady, pounding piano and easy baritone helped change popular music while honoring the traditions of the Crescent City, died Tuesday.Mark Bone, chief investigator with the Jefferson Parish, Louisiana,USA coroner's office, said Domino died of natural causes at 3:30 a.m. Tuesday 24th October 2017.
Oct 24, 1929 Great Depression
The Wall Street Crash of 1929 began on Black Thursday, signaling the beginning of the Great Depression in the USA. Amid widespread economic ruin, sales of records and phonographs plummet, crippling the recording industry.
Top blues records of 1929
"That Crawling Baby Blues" – Blind Lemon Jefferson
"Travelin' Blues" – Blind Willie McTell
"Christmas In Jail" – Leroy Carr
"Hot Fingers" – Lonnie Johnson
"High Water Everywhere" – Charley Patton
"Nobody Knows You When You're Down And Out"- Bessie Smith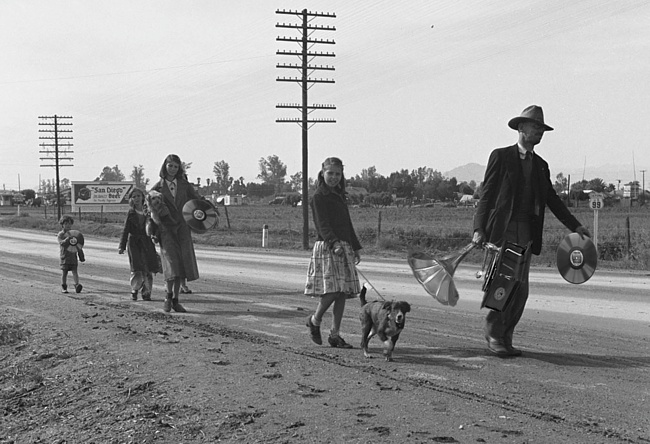 On this day the 24th of October back in 1954 it was the battle of the heavy weights! Howlin' Wolf and Muddy Waters competed in The Battle Of The Blues at the Club Paradise, Memphis, Tennessee, USA.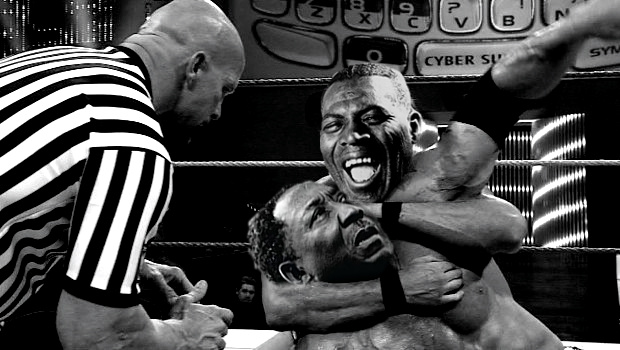 1980 The Guinness Book of World Records presents Paul McCartney with a special rhodium album for being the best-selling songwriter in the history of recorded music, having written 43 platinum songs and sold over 100 million records.
1911 Bluesman Sonny Terry is born Saunders Terrell in Greensboro, Georgia. Terry begins focusing on music when an injury to his eyes leaves him blind at age 16.

On this day the 25th of October
2014 Jack Bruce, bassist and founding member of Cream, died at age 71.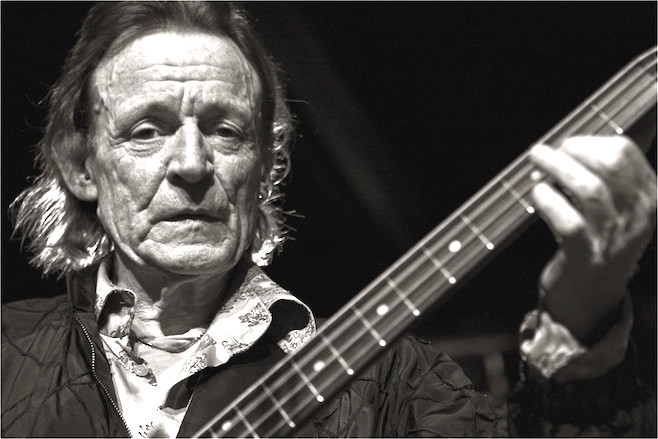 Christine Joy "Chrissy" Amphlett Australian singer, songwriter and actress born October 25, 1959, Geelong. She was the frontwoman of the Australian rock band Divinyls. She died on April 21, 2013 in New York City.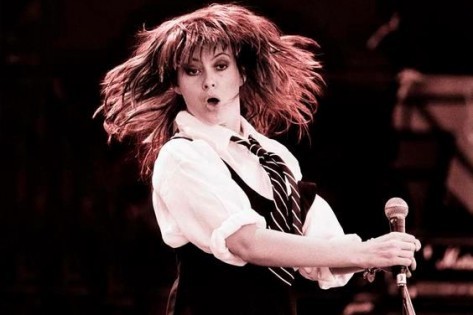 Back in 2000 with mounds of pending litigation against it notwithstanding, embattled music file-swapping service Napster continued to expand with the release of a Macintosh-friendly version available for download. The new Mac version came complete with exclusive features such as file search logs, "drag and drop" capability, and a color scheme that matches the hues on Apple's new iMac models.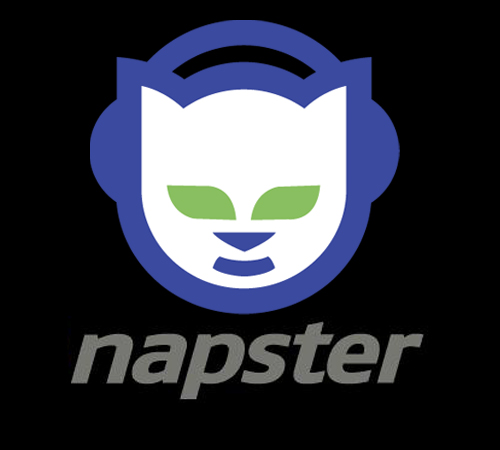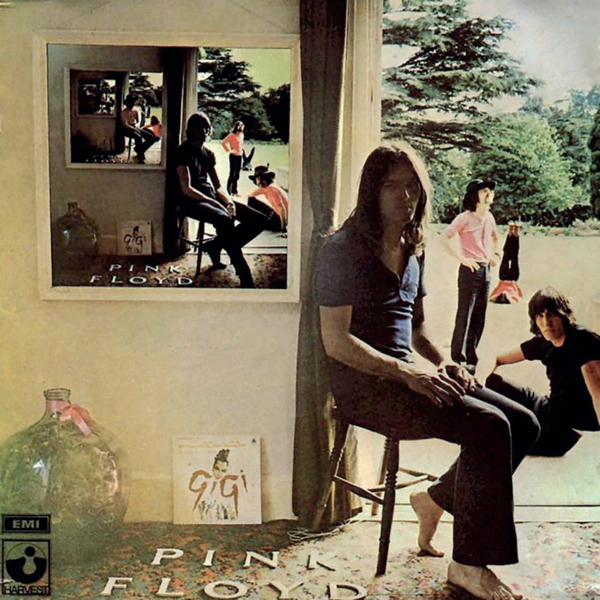 Pink Floyd emerge from Umma Gumma on this day in 1969
On this day the 26th of October
1958 The first rock concert in Germany is held in Berlin, and it doesn't go well, as agitated youth fight during a performance by Bill Haley and his Comets. By the time police clear the Berlin Sportpalast, where the concert is held, five policemen and six audience members are seriously injured.
1998 Fats Domino is awarded the National Medal of Arts from US President Bill Clinton.
1994 Wilbert Harrison (of Canned Heat) dies after suffering a stroke at age 65.
On this day the 26th of October back in 1954 R'n'b pianist Bill Doggett recorded "Wild Oats" for King Records in Cincinnati, Ohio, USA. His 1956 recording "Honky Tonk" sold four million copies. After that success Bill went on to sow quite a few more wild oats.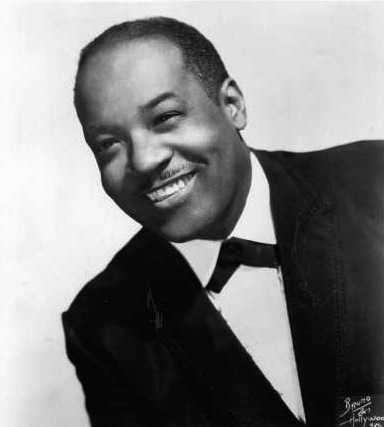 >
On this daythe 27th of October
In 2013 Lou Reed (frontman for The Velvet Underground) died of liver disease in Southampton, New York, at aged 71.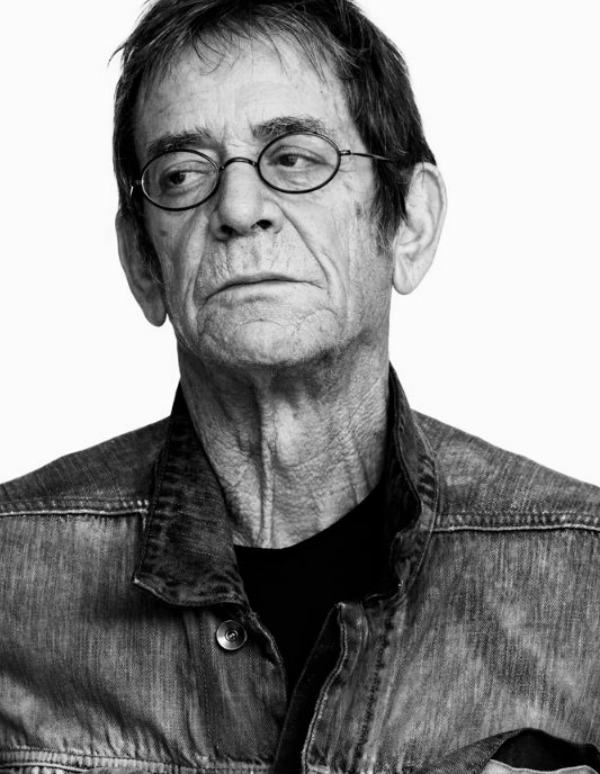 On this day the 28th of October
In 2014 at their regular haunt, the Beacon Theater in New York City, The Allman Brothers Band played their final show.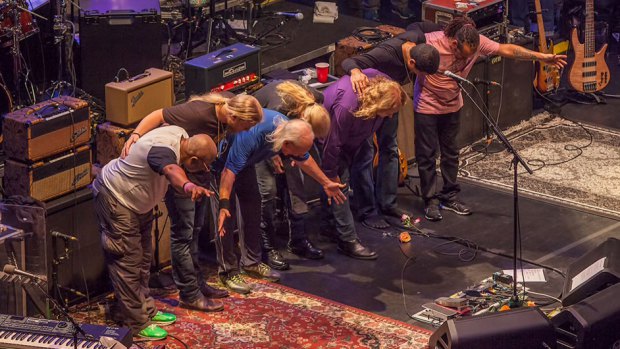 Photo caption: Anyone seen my guitar pick?
On this day the 29th of October
1946 Rock guitarist Peter Green (of Fleetwood Mac, John Mayall & the Bluesbreakers) is born in Bethnal Green, London, England.
Back in 1971 Duane Allman (The Allman Brothers Band) died in a motorcycle accident at the age of 24.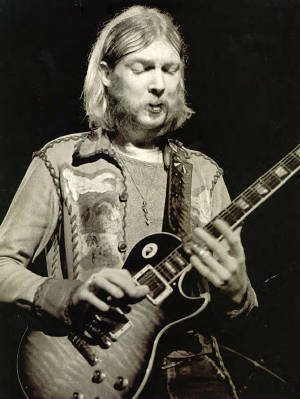 On this day the 30th of October
Born on this day in 1939 Grace Slick from Jefferson Airplane.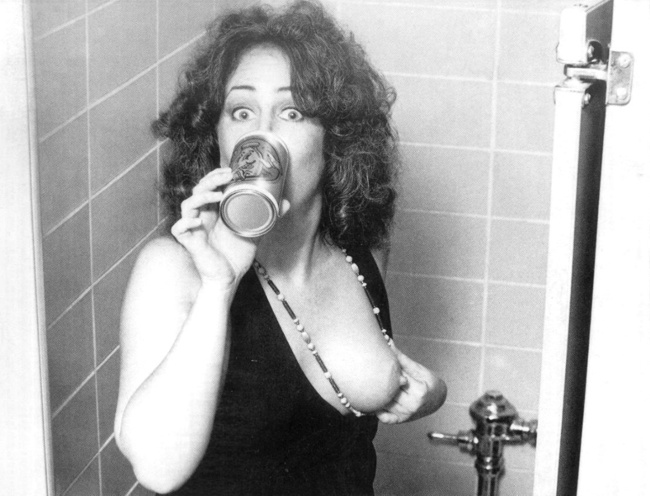 Photo caption: Wardrobe malfunction!
On this day the 31th of October
On this day the 31st of October back in 1927 Victoria Spivey recorded 'Blood Thirsty Blues' for OKeh Records in New York City, USA.