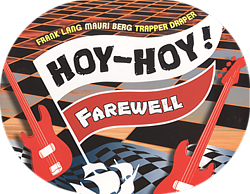 Check out the
HOY-HOY! Farewell Concert DVD
3 Subscribers in next E-Newsletter have an opportunty to win a copy.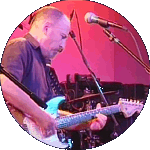 HOY-HOY! Live DVD. The 18th Birthday Show
Here is a D VD that will allow you to take a trip on a lazy Sunday afternoon to a pub on the outskirts of sleepy ol'Adelaide town and enjoy the 18th birthday celebration of HOY-HOY!

View a chapter from the DVD featuring David Small.
The recent release of their DVD is a first for this South Australian blues rock outfit. Their last offering was the 2003 CD 'Who told Frank?' The Texas blues influenced 4 piece, play a mix of original and good time music proclaimed by them to be New Blues'with a real South Australian style. Songs about The Largs Pier Hotel and other local icons such as Semaphore Road are only a small part of the music on this DVD which features guest appearances by Don Morrison, Chris Finnen, and Michael Brown.
To get your copy contact Frank Lang:
Ring Frank: 08 82480834
Email Frank: flang@internode.on.net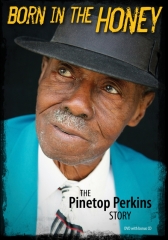 BORN IN THE HONEY ~ THE PINETOP PERKINS STORY
THE ONLY AUTHORIZED BIOGRAPHY OF NONAGENERIAN PINETOP PERKINS
Born In The Honey, set for international release May 15, 2007 by the new VizzTone Label Group through Redeye Distribution, is not only an extensive portrait of the 93 year-old blues piano player, Pinetop Perkins, but also a microcosm of the "Great Migration" from the Delta to the industrialized North over the last century.
As well as following Pinetop's performing career, Born In The Honey also tells of the incident that ended his career as a guitar player, how he taught Ike Turner to play the piano, the explosion that affected his hearing, his days as a car mechanic and his nights as a ladies man. Included on this hour-long DVD is historic film footage and stills of cotton picking, African-American participation in World War II, Tutweiler and Clarksdale, MS, Helena, AR, Memphis, TN, St. Louis, MO and Cairo and Chicago, IL.
Produced by Peter Carlson and narrated by Chuck Dodson, the title, Born In The Honey, refers to Pinetop's birthplace, the Honey Island Plantation in Belzoni, MS. Pinetop as well as numerous fellow friends and musicians and business people recount his story in loving detail taking the viewer through his life and times performing with Robert Nighthawk, Earl Hooker, Sonny Boy Williamson on the King Biscuit Time Radio Show, Ike Turner, Muddy Waters and his band and finally his solo career begun at the age of 83 under the guidance of his manager, Pat Morgan.
Interviewees include Ann Rabson, Bernard Allison, Bob Margolin, Bobby Rush, Bubba Sullivan, owner of the Blues Corner in Helena, Dr. John, Eddy Clearwater, Hubert Sumlin, Ike Turner, Kim Wilson, Koko Taylor, Lonnie Brooks, Marcia Ball, Mitch Woods, Paul Oscher, Sam Carr (Robert Nighthawk's son), Taj Mahal and Willie "Big Eyes" Smith. Ike tells of his fascination with "Pinetop's fingers rippin' across the keys" as well as their time playing together, while Bobby shares a story with an interesting twist of lovers united.
Interspersed throughout the DVD are live performances starring Pinetop with other musicians including Bob Margolin, Mookie Brill, Willie "Big Eyes" Smith, Ann Rabson, Diunna Greenleaf, who also performs the opening gospel song, Curtis Salgado and Calvin "Fuzz" Jones.
Born In The Honey reveals all the ups and downs of Pinetop's life, the accolades from the Grammy's to the lows of alcohol abuse. As Pinetop says himself at the beginning of the DVD – "I had a rough time, but I made it." And at the young age of 93 Pinetop still has more to give.
Please visit http://www.pinetopperkins.com/ and http://www.vizztone.com/ for more information.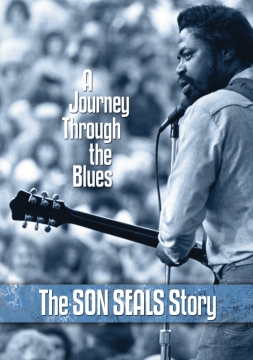 JOURNEY THROUGH THE BLUES ~
THE SON SEALS STORY SON SEALS STORY

DVD PRODUCED BY PETER CARLSON, SAGEBRUSH PRODUCTIONS & RELEASED BY VIZZTONE LABEL GROUP
WITH BONUS LIVE CONCERT FOOTAGE

Journey Through The Blues: The Son Seals Stor
Released internationally August 21, 2007 by the VizzTone Label Group through Redeye Distribution, is an absorbing and illuminating look at the life of the legendary Son Seals.

In this 30-minute documentary DVD Son Seals tells his own story with comments and information provided by members of his family and friends, fellow musicians, and blues music colleagues. Intertwined with the interviews are footage of Son's live performances, stills of Son and his environs complete with music from 12 of his must famous tunes, including "Hot Sauce," "Funky Bitch" and "Bad Axe." An added bonus is one hour of live concert footage from Rooster Blues, House of Blues, both in Chicago, and the Chicago Blues Festival.

Produced by Peter Carlson of Sagebrush Productions, Journey Through The Blues shares specific facets of Son's life, his struggles, and his successes, with insights from his sister, Kat Sims, his son, Rodney Seals, Bruce Iglauer of Alligator Records, Koko Taylor, Dr. John, Steven Seagal, Lonnie Brooks, Frank Pellegrino of Kingston Mines, and Bubba Sullivan of the King Biscuit Blues Festival. Celebrated by Frank as the "good teddy bear with a chain saw," the DVD reveals the passion and the pain of Son's live; his brush with death that left him with a bullet permanently lodged in his brain, his affliction with diabetes, his raw boundless & exciting energy with a guitar in his hand, and his love of hats.

One chapter, "Before You Develop There Is No You", Son talks about finding his groove, which Koko sums up beautifully by saying "… He had his own style…. And when you hear him play, everybody knows that's Son Seals in there playing." Bruce Iglauer recounts many stories accumulated over a 30-year relationship with Son as his label, manager, booker and friend. In the final segment, "Our Way Out Is Through Our Instruments," Bruce concludes by saying that through his music Son saw himself as an "emotional tour guide, leading people from inner frustration to external release."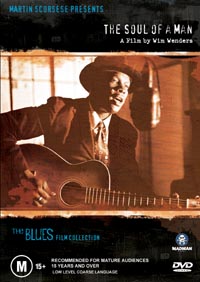 The Soul of a Man (M)*****
Undoubtedly the pick of the series. A trippy "film noire" with some great cinematography and story telling. Visually a delight and cerebrally a spin out! It highlights some amazing turn of events in the lives of Skip James, Blind Willie Johnson and J B Lenoir ...it all goes to show that "truth is stranger than fiction". Worth seeing for the recorded performances alone! Skip James, J.B. Lenoir and surprise, surprise, two of my favourites; Garland Jefferies and Lucinda Williams.
David Stoeckel
German director Wim Wenders (Buena Vista Social Club, Wings of Desire) explores the lives of his own favourite bluesmen, especially Skip James, Blind Willie Johnson and J B Lenoir with a film that is part history and part personal pilgrimage. Using a fictional film-within-a-film, archival footage and covers by revered artists such as Nick Cave, Lou Reed and Bonnie Raitt, the story of these artists and their lives in music is told.
Performances in The Soul of a Man: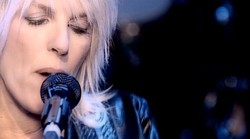 T-Bone Burnett, Nick Cave and The Bad Seeds, Eagle-Eye Cherry, Shemekia Copeland, The Jon Spencer Blues Explosion, Alvin Youngblood Hart, Skip James, Garland Jeffreys, Chris Thomas King, J.B. Lenoir, Los Lobos, John Mayall, Bonnie Raitt, Lou Reed, Vernon Reid, Marc Ribot, James "Blood" Ulmer, Lucinda Williams, Cassandra Wilson.
DVD Extras:
* Five new and extended performances not seen in the film:
- Lou Reed - "See That My Grave Is Kept Clean"
- Cassandra Wilson - "Slow Down"
- Alvin Youngblood Hart - "Mama Talk To Your Daughter"
- Marc Ribot - "Dark Was The Night, Cold Was The Ground"
- Chris Thomas King - "Revelations"
* Outtake from the film - Keith Brown - "The Visit To The Plantation" (silent)
* On-Camera Interview with Wim Wenders
* Director Commentary with Wim Wenders
* Q&A with Wim Wenders
SOUL OF A MAN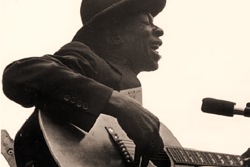 Skip James performing at Newport Folk Festival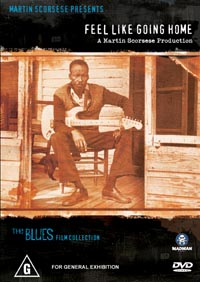 $29.9
Feel Like Going Home (G)***
Martin Scorsese pays homage to the Delta Blues as he follows contemporary Blues musician through Mississippi and on to West Africa exploring the roots of Blues music. Through original performances from Willie King, Taj Mahal and Otha Turner and archival footage of such legends as Muddy Waters and John Lee Hooker the film celebrates the Delta Bluesmen.
Performances in Feel Like Going Home: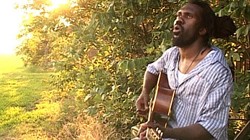 Corey Harris John Lee Hooker Leadbelly Son House Salif Keita Habib Koité Taj Mahal Ali Farka Toure Otha Turner Muddy Waters Keb' Mo' Willie King
DVD Extras:
Six new and extended performances not seen in the film!
- Taj Mahal & Corey Harris - "Sitting On Top Of The World"
- Willie King & The Liberators - "Spoonful"
- Keb' Mo' & Corey Harris - "Sweet Home Chicago"
- Othar Turner & Corey Harris - "Sitting On Top of The World"
- Salif Keita - "Folon"
- Corey Harris - "Honeysuckle"
* On-Camera Interview with Martin Scorsese
FEEL LIKE GOING HOME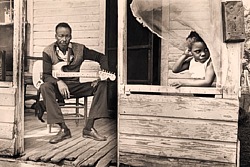 Bluesman Son Thomas on the front porch and on the font cover of Scorsese's "Feel Like Going Home"
"RED WHITE AND BLUES"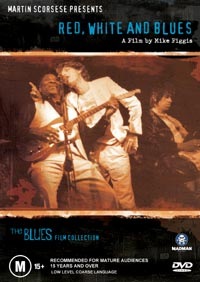 Director Mike Figgis joins musicians such as Van Morrison, Eric Clapton, Jeff Beck, and Tom Jones, performing and talking about the music of the early sixties British invasion that reintroduced the blues sound to America. A series of musical interviews with the key players of the blues movement is augmented with a live session at the famous Abbey Road recording studios. Jones, Beck, Van Morrison, and Lulu all improvise some classic blues standards, accompanied by a superb band made up of younger and not-so-younger-musicians. The results are electrifying.
Artist Performances:
Jeff Beck
Big Bill Broonzy
Cream
Lonnie Donnegan
Georgie Fame
Chris Farlowe
Tom Jones
B.b. King
Peter King
Alexis Korner
Albert Lee
Lulu
Humphrey Lyttelton
Sonny Terry & Brownie Mcghee
Van Morrison
Rolling Stones
Sister Rosetta Tharpe
Muddy Waters
Lead Belly
Jon Cleary
DVD Features: * Seven Full-length Performances Not Seen In The Film:
- Lulu With Jeff Beck & Band - "cry Me A River "
- Peter King - "lush Life"
- Jeff Beck - "nadia"
- Jon Cleary - "piano Improvisation"
- Band Rehearsal - "blues Jam"
- Band Rehearsal - "who's Sorry Now"
- Mike Figgis Piano Jam
*on-camera Interview With Mike Figgis
* Director Commentary With Mike Figgis
* Director Biography And Filmography
*special Menu Option To Scan For All Music Performances
* 5.1 Surround Sound
* The Blues Trailer
RED WHITE AND BLUES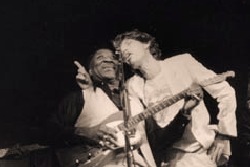 BB King and Mick Jagger
"PIANIO BLUES"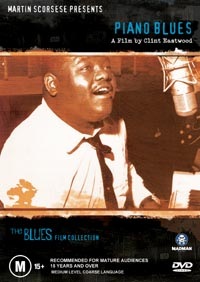 "Piano Blues" was not part of the cinema release of Martin Scorcese's "The Blues". Director Clint Eastwood explores his life-long passion for piano blues using a treasure trove of rare historical acts as well as interviews and performances by such legends as Ray Charles, Fats Domino (featured on the cover), Dr John, Pinetop Perkins, Otis Spann, Professor Longhair and Art Tatum.
PIANO BLUES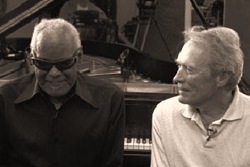 Clint Easwood asks Ray Charles about "piano blues"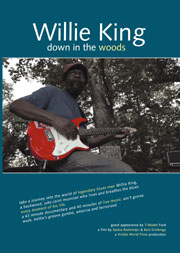 Willie King DVD Documentary "Down in the Woods" Released
Visible World Films has released "Down in the Woods", a DVD about the life and music of Alabama bluesman Willie King. The film takes viewers on a journey into Willie's world - a backwood, juke-joint musician who lives and breathes the blues every moment of his life. The DVD contains a 63-minute documentary and 40 minutes of live music.
The DVD is available at Willie King's website. In addition, a DVD Release concert will be held at Jupiter Bar & Grill in Tuscaloosa, Ala. on May 11th and at Willie King's 10th Annual Freedom Creek Festival May 25th and 26th.
Dutch filmmakers Saskia Rietmeijer and Bart Drolenga of Visible World Films came to America with the intention of producing a documentary about African American arts and culture in the deep South. When they met Willie, they decided instead to devote their efforts to creating a DVD about Willie's life and times.
The DVD is a fascinating collage of Willie King's life and many activities, illuminated with searing live performances and interviews with his family and friends. It enables the viewer to experience something of what it is like to be a modern bluesman living in the Alabama Black Belt, "down in the woods."
Born on a cotton plantation in 1943 the son of poor sharecroppers, Willie was drawn to the blues at an early age. He made his first guitar out of bailing wire when he was seven and has been playing ever since. Cotton picker, moon shiner, juke joint owner, civil rights activist and social worker – Willie has done them all and now is one of the most popular blues musicians around.
He plays big stages and festivals but always returns to his beloved Old Memphis, a small and mostly African-American community in rural Alabama where he lives in an old trailer and preaches the blues at house parties and in ramshackle juke joints. Willie spends much of his time supporting his local community and teaching young people the traditional culture and survival skills passed on to him from his people's share cropping and slave ancestors.
Willie King is one of the true innovators of the blues in the tradition of Howlin' Wolf and John Lee Hooker. His music is powerful – an exciting, danceable mix of rural blues, soul and boogie, all in his own distinctive style. King's lyrics are often political, fighting racism and a voice for poor blacks in the South. He preaches a message of peace, togetherness and social justice for all people around the world.