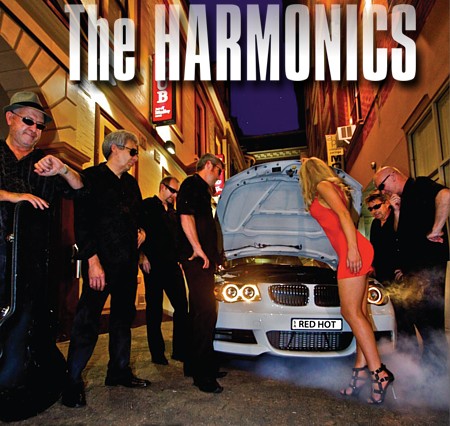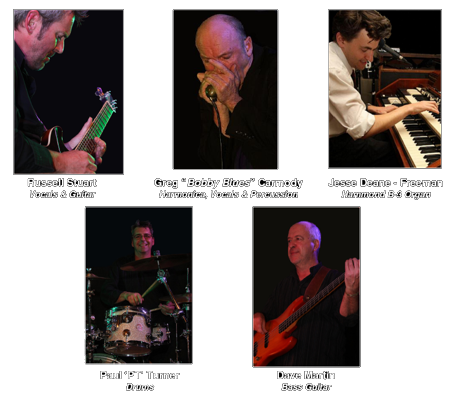 The Harmonics Funky Swinging Rhythm and Blues Band are dedicated to celebrating a diverse mix of American blues artists and their music. Formed in 2008 they've establish themselves amongst Adelaide's live music appreciators as a top local blues outfit.
Formed in 2008, The Harmonics are fronted by talented blues singer guitarist Russell Stuart and Greg 'Bobby Blues' Carmody local Adelaide seasoned harmonica player, singer and percussionist. The Harmonics include Derringers Music 2012 Adelaide Blues Awards winner for best keyboardist Jesse Deane Freeman, Narmon "Brother T" Tulsi on bass guitar and Paul 'PT' Turner on drums.
The Harmonics repertoire includes a range of Contemporary, Chicago, Jazz, Electric, Jump and Hammond Organ blues performing songs from a diverse list of well know American blues artists including Rod Piazza and the Mighty Flyers, T-Bone Walker, Little Walter, The Meters, Little Charlie and the Nightcats, Booker T and the MG's and not so well known American blues artists including Walter 'Wolfman' Washington, Bobby Rush and Enrico Crivellaro.
The Harmonics continue to impress audiences across Adelaide's premier live blues and jazz venues and are currently playing regular monthly gigs at the Royal Oak Hotel, O'Connell Street, North Adelaide.
So, if you're looking for a quality funky blues band that will deliver up a night of smooth blues and related grooves keep an eye out for all future Harmonics gigs in SA Roots and Blues gig guide.
Email Contact: Bobby Blues
3DFM's 'Blues Time' host,
Sue Turner interviews Bobby Blues of The Harmonics

The Harmonics perform at Leigh Street, Adelaide December 2012.
Russell Stuart (vocals/guitar), Bobby Blues (harmonica/vocals/percussion), Jesse Deane-Freeman (keyboard), Dave Martin (bass) and Paul Turner (drums).
Featuring ~ Night Fishing (Bobby Rush), When it rains it pours (Charlie Musselwhite), Do the Dirt (The Meters), Summertime (George Gershwin), Casa Babylon (Enrico Crivellaro).
Film/Audio: Derek Rogers @ Akaroy Films. Photography: Stephen Von Der Borch

Dan Aykroyd & Bobby Blues onstage together.
Bobby Blues got the chance to play with one of the greats!
Published on 6 Dec 2013