"
This Could Be Big
! 30 Years at the Dag End of The Australian Music Industry" by Don Morrison. Read
Lone Tony Joe's review
.
"I reckon it offers invaluable cultural insights for generations X and Y (...what not available for my ipad!?!) For those baby boomers out there, it's just plain entertaining!"
SARB Editor .
SA Roots and Blues, curious about the
UK music scene
has prompted subscriber Shane to send through some reports. His first blog is about
Glastonbury
! Whether you are of the Woodstock vintage, a Womadelaidian, a Byron Bayer or a Big Day Outer we have all heard of Glastonbury. What's it like? A mixture of music genres on multiple stages and many difficult choices ...
Shane reports
.

View the videos
that www.sablues.org has posted on
YOUTUBE
.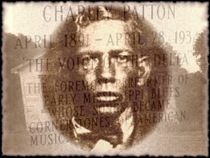 Charlie Patton
(1891 - 1934) one of the first great Delta bluesman.