26th Jan 2018 SPECIAL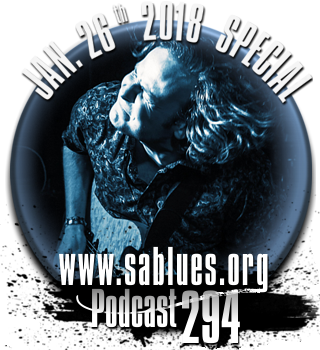 Podcast 294
from
www.sablues.org
Jerome Douvendahns bucks the PC trend, The Greens, Triple J,
the Yarra, Darebin and Fremantle Councils and declares the 26th of January to still be a day to acknowledge our indigenous heritage, our British foundation and our Multicutural character!
PLAYLIST: ARTIST - ALBUM - TRACK.
1 Hillbilly Goats - Old Jack's Bones - Old Jack's Bones.
2 The Heggarties - The Heggarties - Rollin' Ma' Rollies.
3 Emily Wurramara - Black Smoke - Black Smoke.
4 Cal Williams Jr & Kory Horwood - Winter Dove - Can't Get Well No More.
5 Simon Kinny Lewis* - Catfish - So Lonely.
6 Angus & Julia Stone - Snow – Oakwood.
7 Raised By Eagles - I Must Be Somewhere - Nowhere You Wanna Run.
8 Shane Nicholson - Love and Blood – Driving me mad.
9 The Meltdown - Slow Fever.
10 The Teskey Brothers - Half Mile Harvest – Louisa.
11 Kate Lush - Let It Flow - River Flow.
12 Jess Ribeiro - Kill it Yourself - Rivers On Fire.
13 Lolo Lovina - Paint it Black.
14 Don Morrison's Raging Thirst - Don Morrison's Raging Thirst - In Australia.
15 Jen Cloher - Jen Cloher – Shoegazers
16 John McNamara - Rollin' With It - One, Two Of A Kind.
17 Don Morrison - Don Morrison – Nullabor.
18 Juzzie Smith - Taking Time Out – Dreaming.
*pictured
Audio Stream Quality: MP3 CBR 44100Hz 320kbps.
DOWNLOAD
to your mobile media device.

Podcast 294 from sablues.org
Roots and blues by a variety of Australian musicians
to be played on the 26th of January 2018!
Australia Day …like it or not!
Featuring ...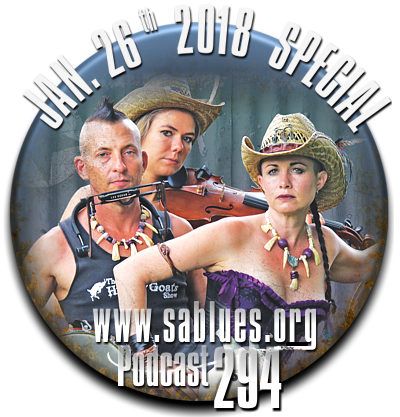 The Billy Goats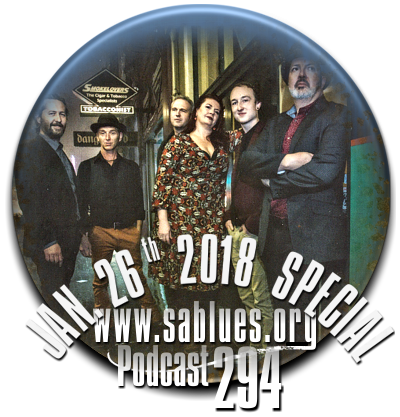 The Heggarties

As the Australia Day debate heats up, www.sablues.org has stepped into the firing line of The Greens and those from the outraged Left who are demanding a change. On Thurs 17th Jan www.sablues.org announced its plans for a podcast of Australia roots and blues music to be played on January 26th. When questioned on the issue, podcaster Mr Douvendahns stated that the podcast should not be seen as a celebration but rather a commemoration. He went on to say
"We are on about roots and blues. It's about presenting a playlist that acknowledges the adversity of the 162,000 convicts transported to the Great South Land from 1788 to 1850. 162,000! It is also about respecting Australia's indigenous heritage and acknowledging the hardship they suffered as well. Not only that, think of the many who have migrated to Australia over the years and the trepidation they must have experienced. When reflecting on all this hardship and misery the best remedy is music, songs that communicate the hopes, sorrows and convictions of ordinary everyday people."
When pressed on the implications of such a podcast, producer Mr Stoeckel seemed resigned to any ensuing controversy.
"We'll see wont we! Be interesting to see how our subscribers respond. Will we get more or less than our regular 4,000 downloads a month for this podcast? I'll let you know. What I don't really expect is our FaceBook page to be inundated with a whole lot of hate mail. Now that would be a storm in a teacup!"
Subscribe to SA Roots& Blues
(It's FREE) and obtain your 'user name' and 'password' to the 'Subscribers' page and download the latest quality MP3 podcasts to your Player!
'The Roots and Blues Hour'
Once a month Jerome Douvendahns presents a rich mature selection from the genres of roots, alt. country, blues, folk and indie alt. rock. Each podcast highlights new and recent releases from these genres. Podcast duration is about an hour.
Thanks to the musicians, promoters and distributors who have allowed us to present their music.