March 2017's BLUES TIME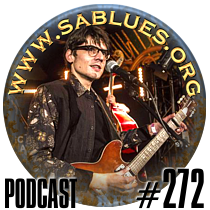 Podcast 272
from
www.sablues.org
1 Tiny Legs Tim* - Melodium Rag - Religions serve the devil.
2 Betty Bonifassi - Lomax - No More My Lawrds.
3 Brother Wilson - Utopia - Sunday Morning Blues.
4 Rene Austin - Sweet Talk - Bury The Hatchet.
5 Doc Fell & Co - Dust Bowl Heart – Lonesomeville.
6 Patty Reese - Let In The Sun - I Hear A Lie.
7 Luke Winslow-King - I'm Glad Trouble Don't Last Always - Louisiana Blues.
8 Thorbjorn Risager & The Black Tornado - Change my Game - Holler 'n Moan.
The Moanin' Blues featuring:
9 John Lee Hooker - Moanin' Blues intro.
10 Charley Patton - Mean Black Moan.
11 Ed Lewis and Prisoners – Stewball.
12 Henry Ratcliff - Louisiana.
13 Son House - Clarksdale Moan.
14 Heritage Blues Orchestra - Clarksdale Moan.
15 Texas Alexander - Levee Camp Moan Blues.
16 Walter Brown - Mississippi Moan.
17 Blind Lemon Jefferson - Black Snake Moan.
18 Leadbelly - Black Snake Moan.
19 Elmore James - Black Snake Blues.
20 Victoria Spivey - Detroit Moan.
21 Lightnin' Hopkins - Moanin' Blues.
22 Howlin' Wolf - Moaning For My Baby.
23 Little Axe - Moaning And Groaning.
24 Mr Airplaneman - Moanin'.
25 Abbe May - Howl and Moan.
26 John Lee Hooker - Moanin' Blues outro.
27 Ronnie Earl and The Broadcasters - Moanin'.
*pictured
Audio Stream Quality: MP3 CBR 44100Hz 320kbps.
DOWNLOAD
to your mobile media device.

Subscribe to SA Roots& Blues
(It's FREE) and obtain your 'user name' and 'password' to the 'Subscribers' page and download the latest quality MP3 podcasts to your Player!
'Blues Time'
comes your way once a month. It draws its play list from the genres of acoustic and electric blues. Each podcast highlights new and recent releases. Duration is about an hour.
Thanks to the musicians, promoters and distributors
who have allowed us to present their music.

Podcast 272. March 2017's " moanin' " edition of Blues Time
Wow! I think I need to write a MOAN tune - with an address!
Thanks for including me on your show amongst so many greats.
♡♡♡ Patty Reese